Description
Description
Montefino is a newly renovated eco house that incorporates cellulose fibre and pavatex insulation, traditional Japanese rendered walls, wooden floors with under-floor heating, and natural locally sourced cedar cladding.
The hydronic floor heating is run from energy efficient heat pumps, and results in cosy rooms and clean dry air quality inside the house.
There is a 2 bedroom apartment on the top floor and a 4 bedroom apartment across the bottom 2 floors.
Both apartments have great views across the valley and easy access to the centre of the village, Swiss bakery and Nozawa Central rental shop.
Montefino has 2 apartments available.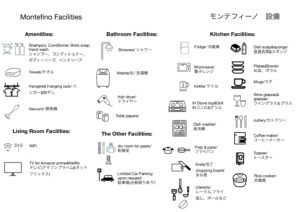 2 BDRM (upstairs)
2 Bedroom Upstairs Apartment
includes:
1 queen bed and 2 single beds
1 toilet and 1 shower
Washing machine, vacuum, and hanging rack, hair dryer
Fully equipped kitchen including fridge, dishwasher, microwave, toaster, kettle, rice cooker, pots, pans, cooking utensils, coffee maker, plates, bowls and silverware
Free Wifi!
55,000 yen (up to 4guests)
4 BDRM (downstairs)
4 Bedroom Downstairs Apartment
includes:
2 queen beds and 4 single beds
2 toilets and 2 showers
washing machine, vacuum, and hanging rack, hair dryer
Fully equipped kitchen including fridge, dishwasher, microwave, toaster, kettle, pots, pans, cooking utensils, coffee maker, plates, bowls and silverware
Free Wifi
85,000 yen (up to 8 guests)
Location
Montefino Location
Our properties are all well located very close to the snow, please have a look at the below maps (click for the PDF file) to see the position, lots of great places to eat and local landmarks. Free public hot springs housed in traditional buildings all round the village. Perfect after a hard day skiing with Nozawa Onsen Restaurants, pubs, ATM, Post Office and Supermarket all an easy stroll away.
Montefino is right between Shinden and Nakao public onsen, and a 550meter walk across to the Karasawa beginner slopes and connector chair.
Shinden bus stop is 210m meters from the front door for easy access to iiyama station and beyond.
Montefino is located on our town map ref: C8.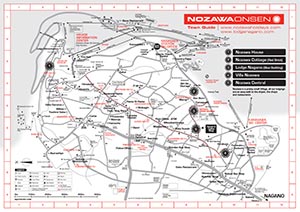 Check in info
Check-in Information for Your Stay
Address: 4408 Oaza-Toyosato, Nozawa-Onsen-Mura, Shimo-Takai Gun Nagano 389-2502
389-2502 長野県下高井郡野沢温泉村大字豊郷4408
Please check this link for getting to Nozawa Onsen.
Montefino is located at C9 on the town map and the closest bus stop is Shinden (map ref: C7).
Limited car parking is available on-site. You must let us know if you are coming by a car.
Contacts: +81(0)80-6936-6026 (you can use WhatsApp!)
Check-in: 3pm – 7pm
Early check-ins: Please come to Nozawa Central. You are more than welcome to leave your luggage (including ski and snowboard bags) with us until you are able to check-in.
Late check-ins: Let us know if you plan to arrive after 7pm and we will leave the door unlocked.
Check-out: 10am
Office hours: 8am – 7pm
Please note: If checking-in before 7pm, please come to Nozawa Central for a town orientation and to collect your lift vouchers as well as rental gear if required. If checking-in after 7pm, you can go directly to your accommodation and see you next morning.
Luggage Transfer
You can transfer your luggage from / to wherever you like in Japan. To send them to us (you will need to use the Nozawa Central address) please write your booking names and your check-in date and we will take care of your luggage until you arrive.
Complete Your Holiday
If you haven't seen the variety of snow services we offer to our guests, please feel free to check out what we offer.
Cash in Nozawa Onsen
Japan is predominantly a cash society, and it can be difficult to find places that accept cards as payment. Please ensure that you bring enough cash in Yen with you. You can exchange money at the airport bank, or before you leave home.
There are two ATMs in Nozawa Onsen. One is located next to the Tourist Information Office which accepts most bank cards. The other ATM is located just inside the Post Office glass sliding door, which is open until 6pm each evening.
Restaurants around Town
There are a large array of restaurants and bars around Nozawa Onsen, all of which have a uniqueness about them. Please feel free to check out our free Restaurant and Bar Guide to see what takes your fancy!
Any other questions? Check here: FAQ
Ski Locker
Ski Locker
As a guest who rented from Nozawa Holidays rental shop, you also have an access to the Ski Locker for your skis and snowboards – a very easy and convenient way to store some gear whilst you hit the slopes!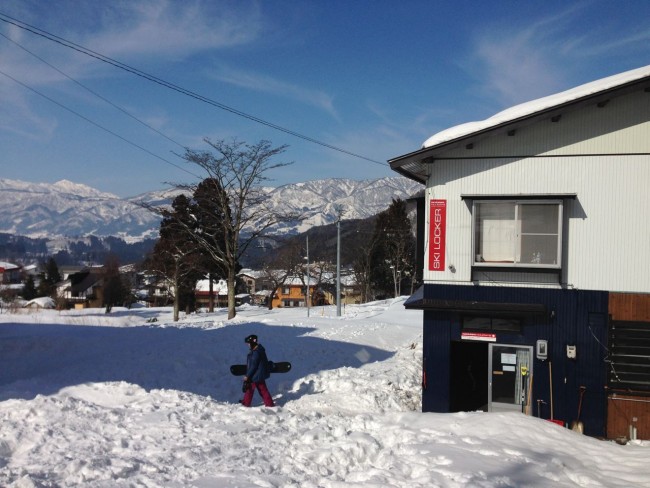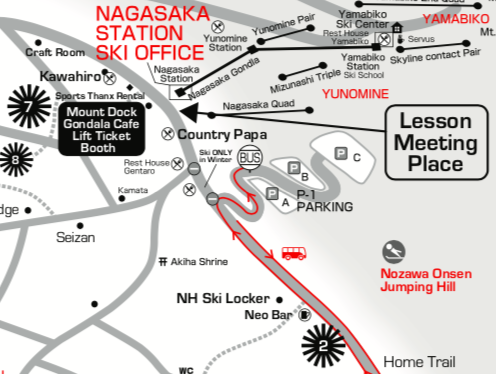 Quote Request