Mountain Bike Trip Nozawa Onsen Japan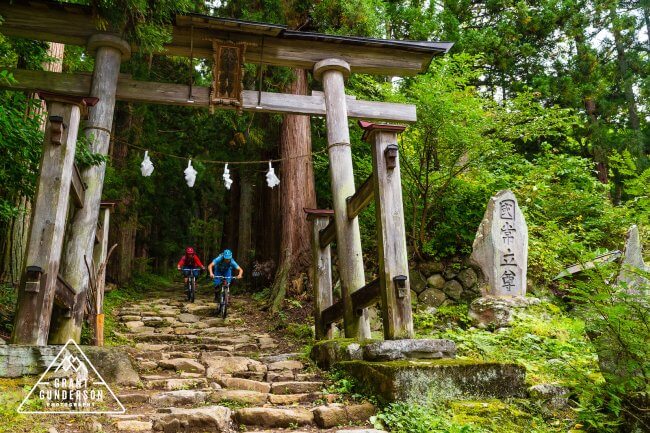 Japan is now firmly on the international stage for Skiing in the Winter, those same beautiful mountains remain after all the snow is gone. What better way to explore them than on two wheels by Mountain Bike. Nozawa Onsen is a quaint traditional Mountain Village in the Alps of Nagano Japan. It is at the base of one of the most famous and original Ski Resorts of Japan.
Rich in Culture, amazing food, awesome Mountain bike trails and soothing Onsens at the end of the day, it makes for the perfect Mountain Bike Destination. We have been based here for almost 30 Years now and look forward to welcoming you to this amazing part of the world.
Here is a great little video that gives you an idea of what a Mountain Bike Week in Japan could look like for you. The footage is from Nozawa Onsen and surrounding areas
Mountain Bike Week Nozawa Onsen Japan
Package inclusions for a perfect week
Dates; Check in Saturday 3rd of August 2019 Start Riding Sunday, Check out Saturday 10th of August 2019. (But can come anytime just ask us see notes below)
7 Nights Stay in Traditional yet modern Japanese Mountain Lodge
Healthy Breakfast Included
Welcome Dinner on first night
5 Days Unlimited Gondola Pass to get to the top of the Resort
1 Day Guiding and local support staff to help at all other times
Use of Village run Hot Springs
All for just 87,975 Yen per person Twin Share with Share Bathroom. Private Bathroom 104,000 Yen
Single Room 100,000 Yen Share Bathroom. Private Bathroom 116,000 Yen
Discounts for Share room or Triple and Quad Share just ask. Open to all levels, ages and interests
Staying at the very comfortable and popular  Villa Nozawa Lodge
If prefer also lots of great self contained upmarket Apartments and Houses please contact for a quote her his a link Apartments and Houses in Nozawa Japan
The "Green Season" in Nozawa is pretty amazing and lots of other great activities to get involved in
Some of the great activities to explore include:
Hiking and Trail Running
Exploring the Village and other surrounding towns
Kayaking, Stand Up Paddle and Rafting
Yoga and Meditation
Golf, Tennis, Soccer
Relaxing in an Onsen
Here is a link to all that Nozawa Onsen offers over the Spring, Summer and Autumn Months; Green Season Nozawa Onsen
Mountain Bike Trip Nozawa Onsen Japan
This is an idea of the daily schedule Daily for the MTB Week in Nozawa:
Wake up when ready, stretch and hot spring bath early free ride if like
Breakfast will be served at 8:00am
After breakfast head to the Gondola and take the lift up to begin your riding for the day. Go up and down as many times as like and explore the trails
Lunch can be a picnic on the Mountain or at the restaurant or can ride back into town and explore the many great cafes and restaurants
Evening back to the Lodge, relax, shop, have a beer at the brewery or one of the bars in town. Meet up with others for Dinner in town
Wander the village at night, relax in a hot spring bath and rest for another day of biking. Lunch and dinner are not included but will organise a few dinners together if everyone is keen.
Summer Activies ( Optional)

Monday: Arrival dinner
Lets meet, greet and eat. Our welcome dinner will be held at a local family's house not to far from Villa Nozawa. Here we can get to know each other, eat some quality Japanese food and get an idea of what is ahead of us for the next week.
Lets meet at 5.30pm in the Villa Nozawa dining area for introduction / meet and greet. Welcome dinner is on the house and will start from 6.30pm.
Tuesday: Free Town tour with Japanese guide Akiko
Bring your map and learn to know your way around this beautiful town with a guided tour. We'll show you all the hot spots to eat at, a few hot spots to rest in (local onsen, post office ATM, main street for shops, souvenirs and groceries, temple area.
Also Mountain Guide of the Bike tracks
Meet at Villa Nozawa at 11 am for approximately 2 hours
Wednesday: Lets go hiking
Nature lovers, bring your shoes, maybe your bathers, and get ready for some incredible offerings of nature. We will explore the area around lake Hokoryuko and be surrounded by green goodness. We can make a lunch stop at an awesome soba noodle restaurant and then make our way back to the villa for some soothing yin yoga.
Thursday: Nagano day
Our regional capital Nagano has lots to offer. Great shopping, fantastic restaurants for lunch and one of the nicest temple areas in all of Japan. Zenjoki Temple is one of the biggest wooden structures in Japan and is impressive to see. Enjoy the local train ride from Iiyama and come and explore the host city of the 1998 Nagano Olympics.
Local train cost 650 Yen one way
Shinkansen ticket 1300 Yen one way
Friday: Cooking class
Join a Japanese cooking class and be guided by Akiko and her mother Setsuko when cooking up three different Japanese specialties.
On the menu is:
Veggie tempura
Plain Inari
Japanese sugar ball with red bean paste and fruit
Cooking class will go for 2 – 2.5 hours
It will cost 3000 Yen per person
Saturday: Own time
Feel free to explore Nozawa, ride to other villages or just relax
Sunday: Relaxing onsen day
Choose to visit one of your favourite onsens throughout town for a relaxing last day before your travels continue. Afterwards take a stroll around town and pick up any last minute gifts from the local shops or go for another short hike to the lake or nearby forest.
Monday: Sayonarra
Optional activities:
Zip Line at Hikage. (Longest Zip Line ride in Japan) 2000 Yen per adult
Take a local massage from 6000 Yen an hour
Maguse outdoor Onsen for great views and a nice soak (500 Yen admission)
Check Availability Book Online Quote Request by Email
Restaurants
Please see our Nozawa Holidays food, bar and restaurant guide for further information. There is great local food in town. Most restaurants speak a little bit of English and have an English menu. But here are couple of phrases that may help with your dining experience:
https://www.nozawaholidays.com/restaurants-bars/
Please           Kudasai
Thank You   Arigatou 
Bon Apetit    Ittadakimasu
Delicious       Oishii 
Food             Tabemono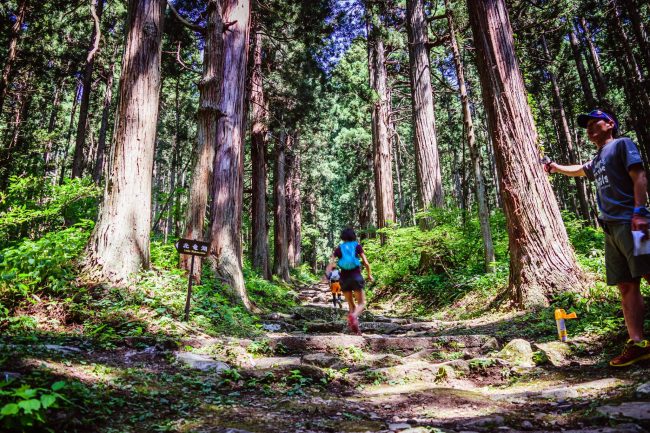 Not included in the Package
Dinner and Lunch but welcome to use the Lodge Kitchen and lots of amazing restaurants in the Village where you can eat out for as little as 1000 Yen. Here is a link to check them out; Restaurants and Bars in Nozawa Onsen
Travel Insurance we strongly advise getting correctly insured for Mountain Biking and cancellations or any little mishaps along the way.
Mountain Bike Hire.  We work together with the local Bike Shop Mt Port and they have a great range of all types of bikes depending what level you are. Here is a link to prices and course details. Hint open in Google to translate Mountain Bike Nozawa
Airfares and Transport to Nozawa Onsen. Nozawa is just over 2 hours from Tokyo and a very easy trip on the Bullet train. Here is a link to details and info on the Rail Passes; Getting to Nozawa Onsen
Sending bikes up. You can take them on the train provided you have a Bike Bag or if prefer can just send them up from the Airport or from any Hotel in Japan for very little cost and no hassle here is a link Sending bags in Japan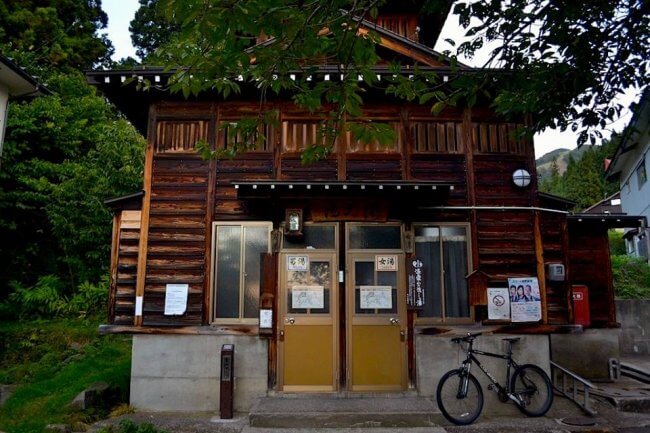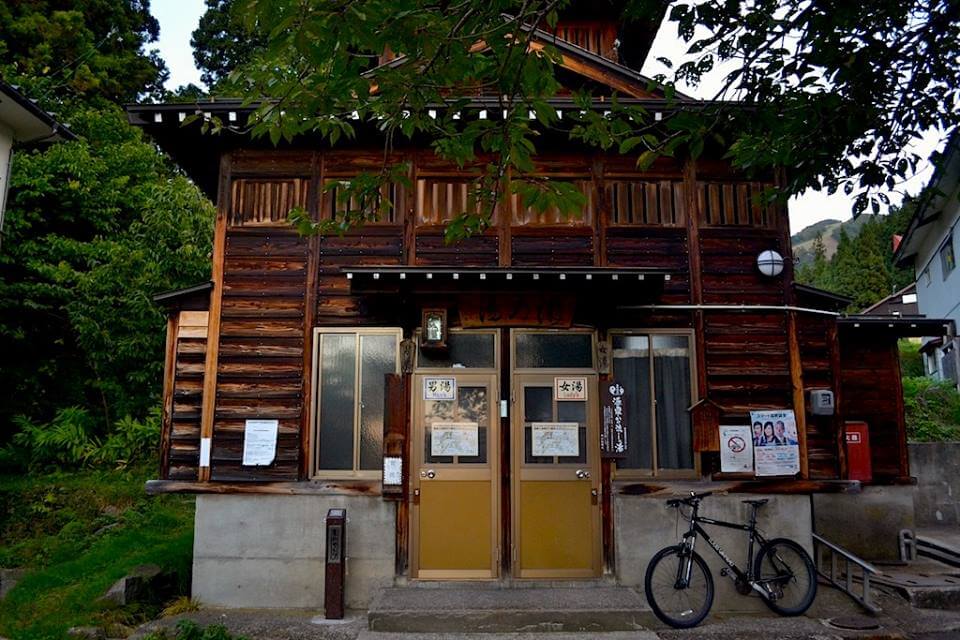 Mountain Bike Trip Nozawa Onsen Japan
We are open to other dates and you are welcome anytime of the year.  Please just ask us what dates you would like to come and we can tailor a package to suit. The Gondola operates from
◆ Saturday, July 7th – Sunday, August 26th (Sunday)
But can still ride anytime of year and going up can be half the fun. If have a group we can organise a trailer and van to take you up to the top for an extra fee too. Here is another link with great info on Mountain Biking in Nozawa Mountain Bike Nozawa Japan
Book now for the experience of a life time in Nozawa Japan. Here is a link to book Book Now Nozawa Mountain Bike Trip Japan
Otherwise please email stay@nozawaholidays.com  if any questions and to book. We look forward to seeing you in Japan. Check out this great little write up on a recent trip by some Pro Riders Mountain Bike Japan by Where to Ride
Leave you with another great video of Sam Pilgrim a Professional Rider who made "The Pilgrimage" to Nozawa recently