Nozawa Onsen FREE Ski Locker, Save with Exclusive Deals & Much More
Our helpful Guest Services department on call. We have 4 offices across town with friendly bilingual staff to help with anything you need
Free use of our Ski Locker and Drying Room located just near the main Nagasaka Gondola. So can leave your gear next to the slopes and walk back in comfort.
Over 25 Years of local experience and knowledge with the pioneer company to introduce Nozawa Onsen to International skiers and boarders.
Free Wifi at most of our lodgings. High speed optic fibre!
Exclusive deals on Lifts, Lessons, Rentals, Transfers and Tours at our own personally run English Speaking outlets
Great accommodation deals that can meet any budget.
Have the time of your life and plan the best holiday in Nozawa Onsen, one of the most popular ski resorts in Japan.
Nozawa Onsen Accommodation
Meet The Team
We have a great local and international crew here taking care of our guests who come to Japan.
Luke
Luke has been with us since the start here in Nozawa Onsen and is a champion.
His parents run hotels and he has worked in the airlines, so has a long and successful history in hospitality.
He receives the most outstanding comments from our guests and his energy, enthusiasm and love of …more
Mariko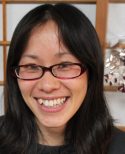 Mariko works together with Luke to manage Lodge Nagano and recently they took their relationship to the next level tying the knot last year.
Mariko is a tireless worker and always genki.
She will help you with anything you need from the best places to eat to what time the train leaves to Okinawa …more
Kyoko san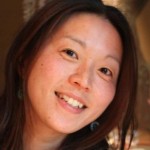 Kyoko san is a natural at taking care of people and will welcome you with true Japanese hospitality and a smile. One of the most adventurous girls we know she will tackle any challenge thrown at her.
She never stops working and together with Gab runs a great lodge at Villa Nozawa. Perfect English and German she is pretty smart and will sort anything you need …more
Gab san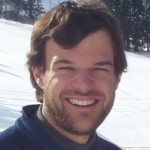 Gab originally from Switzerland but is a citizen of the world. Has ridden his bicycle half way around it.
He was a top level racer back home and has also placed highly in local Nozawa Onsen contests. Gab, together with Kyoko, do an amazing job of managing Villa Nozawa. He also heads our ski instructors and rental division so you know you are getting professional advice …more
Restaurant & Bar Reviews
Eating out is a joy in Nozawa Onsen, and with the many amazing restaurants being such great value (most around the 800-1000 yen mark – about $12 AUD) you can't go wrong.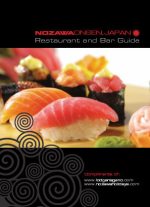 Along with the great restaurants on the mountain there are far too many eating-places and quaint bars in Nozawa to mention here, but we would like to introduce you to a few of our favourites.
Some are on the map and a few we try and keep a bit secret just for our guests, so be sure to ask our staff for their suggestions – we'll be delighted to share.
Get your free and detailed Nozawa Onsen Restaurant & Bar Guide here (PDF file).
"The restaurants are tiny, but the food is big! Very fresh food, really friendly service and a very enjoyable part of our stay – and the value was outstanding. I came to ski Japan, but found the food ran a very close second!"

Natalie L, Sydney
Onsen Info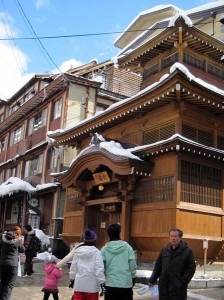 Onsen means Hot Spring in Japanese so naturally Nozawa Onsen is an Onsen Mecca and has been for hundreds of years.
Way before Nozawa became famous for skiing it was a popular place with travelers from Tokyo as a Mountain Onsen Retreat.
There are 13 free onsens around town, and more private ones. They're housed in beautiful traditional Japanese buildings, and are a great way to experience local culture. A nice hot soak in mineral water is also a great way to soothe away the aches and pains after a day on the mountain.
The local people pay to run and maintain the onsens, and it's important that we follow local manners and customs when we indulge.
Please read our Onsen guide to ensure you get the most from this unique experience or watch this great video from Luke.
Maps
Nozawa Onsen has some amazing traditional architecture with Temples, Hot Spring Houses and traditional Inns.
Our properties are all well located very close to the snow for incredible skiing, please have a look at the below maps (click for the PDF file) to see the great positions of our properties, lots of great places to eat and local landmarks.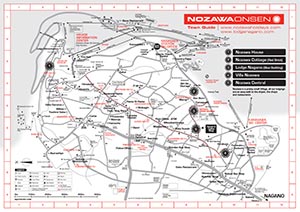 Testimonials
Visitor Testimonials
"Thanks again for the trip, we had an amazing time and had some awesome snow with great blue skies after snow. Also hats off to Luke, Kim and Kaito san, they were an amazing help and created a fun and relaxed atmosphere for the week."
Frazer East
"Honestly best stay I have ever had. Mark is an incredible host and does way above he needs to. I am a mid 20's snowboarder traveling with 5 similar people. Everything was spotless, treated like a 5 star building."
Kris