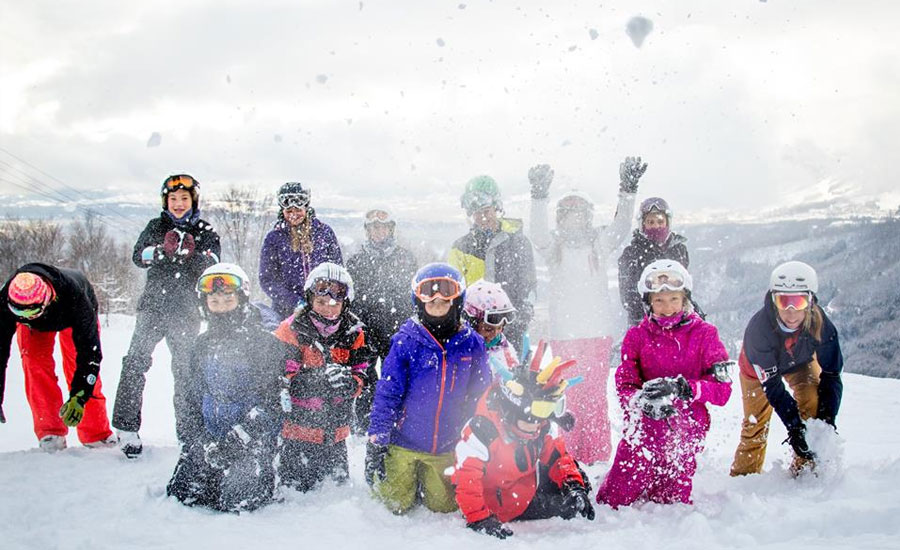 The whole history of Nozawa over the years has been based on strong family values and unity. Like many places in Japan, multiple generations live together under one roof, and with Nagano being one of the oldest living places on the earth that can mean sharing a house or in Nozawa's case a Ski Lodge with your family for many years!
Due to fewer constrictions on space living in the country say compared to Tokyo the birth rate in Nozawa is also higher with 3 kids in a family pretty common. So the local community loves kids and families and the resort and village is very much geared up to cater for families from Japan and abroad!
Here are a few points on Nozawa that make it the perfect getaway for your family Japan Ski Experience!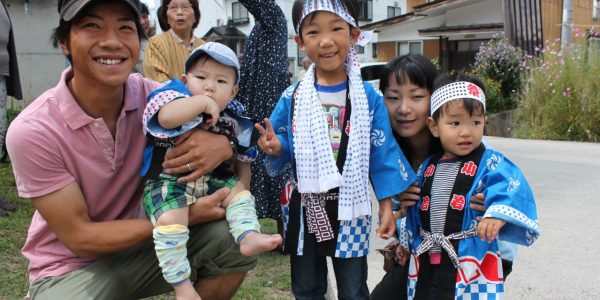 ---
10 reasons to choose Nozawa for your next family vacation;
---
Number 1 The Culture
Nozawa is known as the Kyoto of ski towns!
It is still very much a traditional working Japanese farming village with shrines, Onsens or hot spring houses and traditional style inns dotting the village.
Many ski resorts in Japan have become international so very similar to other big resorts around the world. Nozawa Onsen retains its traditional unique charm.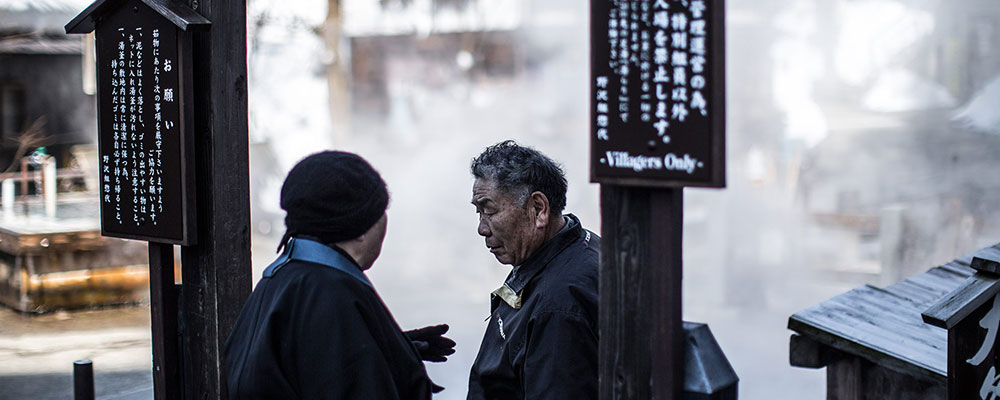 Nozawa Onsen is unique it is a ski resort that retains its cultural identity.
---
Number 2 The Food
We have over 30 restaurants in the village and more again up on the mountain. Some amazing Japanese food and also some terrific western options. Even the fussiest eaters will find some thing the like. You can also eat and drink everything and not worry about getting a bellyache. The water from the springs is some of the nicest I have drunk anywhere in the world. Many famous Japanese sakes use it in their brewing. You can check the great restaurants and bars in Nozawa here Nozawa Onsen Restaurant and Bar Guide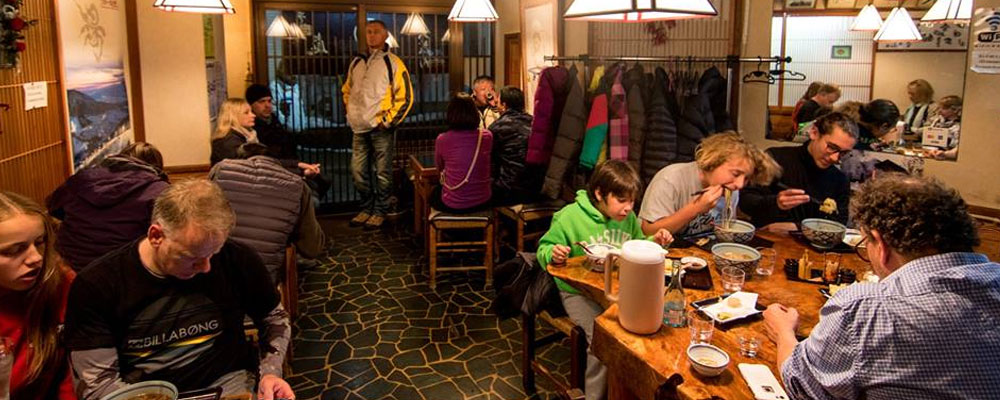 Daimon Soba one of the many great family run restaurants in Nozawa Onsen.
---
Number 3 The Skiing
Nozawa is the reverse to many mountains in the world and some of the best beginner runs can be found up the top. Uenotaira which literally means " The Flat area up top" goes for almost 3 km and is a few hundred meters wide most of the way with a very gentle gradient. Perfect for kids and beginner and is accessed just off the top of the main Nagasaka Gondola. I taught my kids to ski there and trust me it is perfect. Once they get the hang of it can continue a further 8km down the home trail back to the Village!
Here are some great tips on skiing with kids in Nozawa Onsen from the guys at Nozawa Central Skiing with Kids Nozawa Onsen Japan
40% of the runs in Nozawa are beginner level. Ski Courses in Nozawa Onsen
Lots of great beginner runs for the kids in Nozawa Onsen. Kai aged 3 tearing down Uenotaira.
---
Number 4 The Kids Park
Along the family lines I discussed earlier it has always been a priority to take care of the kids. The resort has built an awesome park for the kids in the Hikage Bowl at the base of the mountain. It has jumping castles, slides, tube runs, two magic carpets and a Day care center just inside if they get cold or the parents want to hit the slopes themselves. This is also where the Yumin Child Care centre is located. here is a link to info on that and Baby Sitting in Nozawa Onsen Child Care and Baby Sitting Nozawa Onsen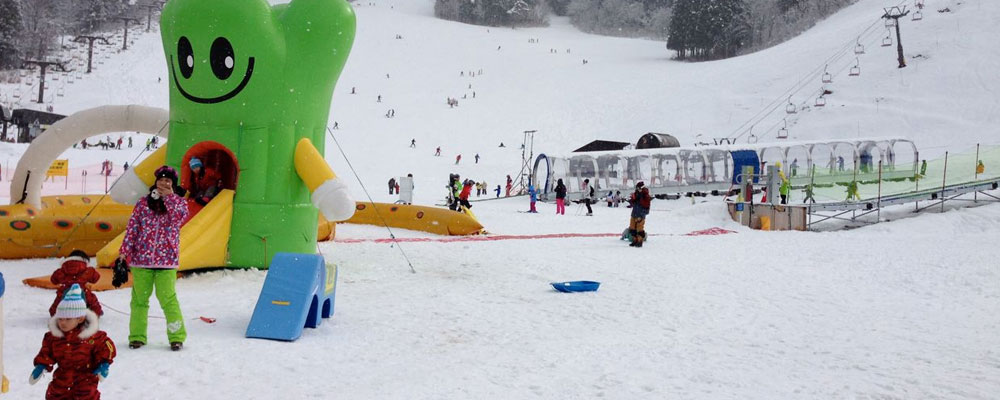 The Nozawa Onsen Kids Park on the slopes at Hikage a world of fun for everyone.
---
Number 5 Ski and Snowboard Lessons
There are great options for English Speaking Ski School for kids and Adults in Nozawa with either Nozawa Holidays or the Nozawa Ski Resort. Experienced and fun instructors from all over the world will help your family to fall in love with this highly addictive sport of either skiing or snowboarding. Once we hook the kids we know we have got you for life!
Ski and Snowboard Lessons in Nozawa Onsen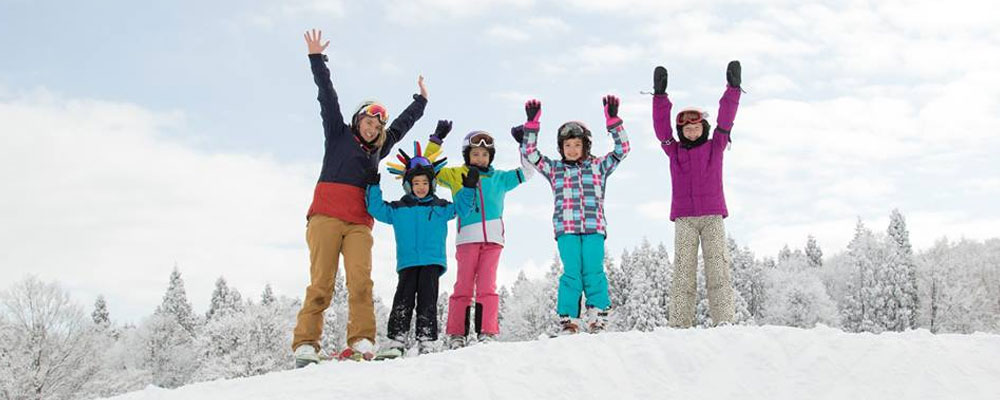 Kids Lessons with English Speaking Instructors makes it easy with Nozawa Holidays.
---
Number 6 The Onsens or Hot Spring baths
Lets face it kids love playing in the water and it is often hard to get them out. The Onsen baths are a daily family ritual for local families and surprisingly for many of our visiting families too. The 13 free local onsens are the authentic feeling and the kids can get a stamp book and get a free gift from the tourist office if they do them all. For those that want a little easier entry to the world of Onsening then we have the Sparena Complex which has a huge outdoor onsen that is mixed and you wear your bathers so perfect for the whole family. So be sure to pack your swimmers.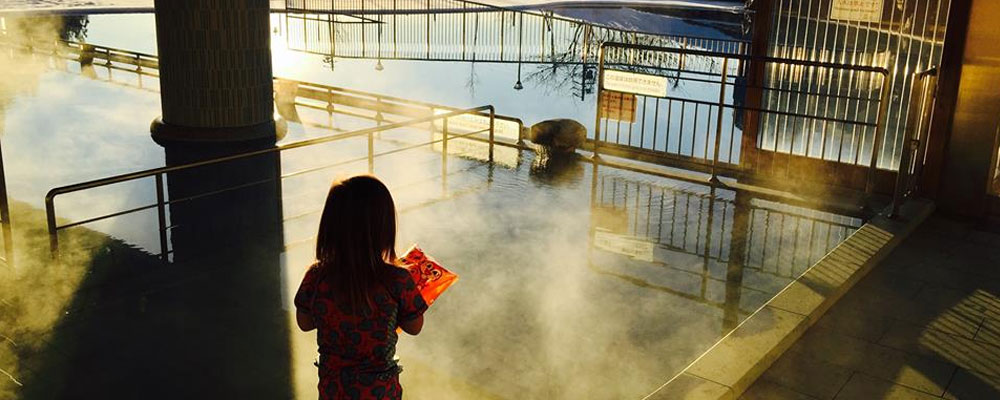 Indoor or outdoor the Onsens in Nozawa Onsen are a highlight.
---
Number 7 Japan is Safe
Japan is general is a very safe and clean country to travel in and when you get to Nozawa it is like stepping back in time. In the 25 years I have been in the village have never locked my door and never had a problem. The kids can walk to and from school by themselves and have a snowball fight with their mates. Crime is pretty much non-existent and people coming from other countries find it such a refreshing change. Kids tend to be let off the leash a bit as parents are confident they will be fine exploring the village by themselves.
It is not rare in the village to see kids walking around by themselves without a worry. The way it should be!
---
Number 8 Reliable snow fall
Most years in Nozawa we have the opposite problem of many resorts, we have too much snow and need to find ways to get rid off it so we can get around the village. With an average annual snow fall of about 14 meters and often getting up to 100cm a night it is very rare that you are short on the white gold. So soft landings and snow ball fights are pretty much guaranteed.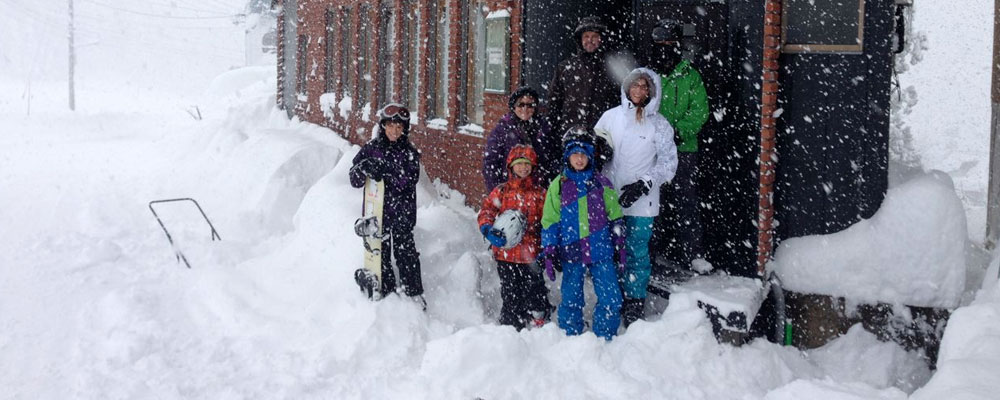 This shot was early December a few years ago. This family had to dig thier way out at Nozawa Cottage.
---
Number 9 Great conditions
Many resorts you ski in the world are cold! Sometimes too cold. Nozawa due to its position on the globe does not get bitterly cold so is more comfortable for kids. Especially in March and April and we still can have great fun spring conditions then too. We also tend to get more Sunshine days than some of our northern neighbours. Here is some info to help plan your trip Snow Conditions to expect in Nozawa Onsen
We get the snow but also the sunny days to enjoy it in Nozawa.
---
Number 10 Nozawa is Great value!
This is always an important factor when planning a family holiday. Japan is one of the cheapest places in the world to ski with some of the best snow. Lift Passes, food and even accommodation can be as much as half price as say skiing in Australia! Here is an idea of a 1 week Ski Holiday Package for a family
---
Check out some of the great options here Nozawa Onsen Accommodation
I could go on but hope I have convinced you that Nozawa is a good choice for your next Snow Holiday. A ski holiday seems to form a special bond for families probably because it can be enjoyed by all ages and creates special memories for life.
We have a lot of repeat families that come back year after year it is their annual holiday and second home almost and we love that.
Nozawa is not just for families by any means! We get couples, singles, mature, young all walks of life and welcome them all the time. Suggest if don't have to come in January then better to book around it if can though! Most of our managers and booking team at Nozawa Holidays have had their kids grow up skiing in Nozawa and are always available for a chat or to answer questions you may have.
Please feel free to contact us
We look forward to hearing from you and our families in Nozawa welcoming yours to stay in this special part of the world soon.
PS; We have the awesome Snow Monkeys nearby and run regular tours! Guess that makes it 11 reasons to visit Nozawa!