Timetable Bus Train Nozawa Onsen
Getting to Nozawa Onsen is very easy. With the introduction of the new Bullet Train it is now so close to Tokyo and the airports. You can do it easily and in just a few hours.
If prefer to not have any transits you can always take the Snow Shuttle too
Here is a link for details; Snow Shuttle Nozawa Onsen
Train and Bus tickets are hard to book online. Best to do when in Japan!
You can purchase train tickets with reserve seats or non-reserve seats at a station.
You can download a PDF of the Arriving Nozawa Timetable below.
For any more train times and price please use this site www.hyperdia.com
This shows the train and bus arrival times when you're coming to Nozawa Onsen, to help you plan your journey.
The latest Train and Bus Time Table to and from Nozawa Onsen.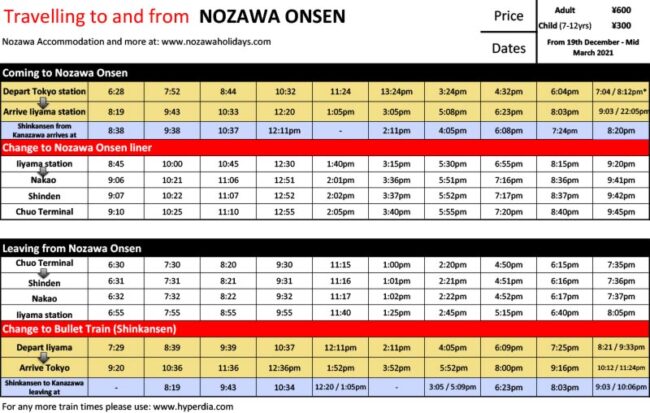 Timetable Bus Train Nozawa Onsen
From Tokyo Airport
From Narita or Haneda (Tokyo) Airport take an Express Train to Tokyo or Ueno Station (approx 60-90 min)
Catch New Shinkansen (bullet train) from Tokyo to Iiyama Station (approx 100 min)
Catch Nozawa Onsen Liner bus or taxi from Iiyam Station to Nozawa Onsen Village (approx 20 min)