Nozawa Onsen Info Pack – Welcome to Nozawa Onsen Japan
Thanks a lot for booking your holiday with us in Nozawa Onsen and we look forward to having you up to stay. Now that that is done lets give you as much info as we can and look at all the fun stuff that awaits! The Orientation Video above is a great start.
Nozawa Onsen Info Pack – Address and Contacts
Here are the addresses of our offices in Nozawa Onsen. The address of your lodging will be emailed to you with confirmation.
If staying at our neigbours please come to the Lodge nearest to you if you require any assistance
Lodge Nagano
Your Hosts:  Luke and Mariko
Address:     6846-1 Oaza-Toyosato, Nozawa-Onsen-Mura, Shimotakai-gun, Nagano 389-2502  Tel no:0269-67-0259
Villa Nozawa
Your Hosts:  Gabriel and Kyoko
Address:     6631 Oaza-Toyosato, Nozawa-Onsen-Mura, Shimotakai-gun, Nagano 389-2502  Tel no: 0269-67-0039
Nozawa Central  
Your Host; Yoshiko and Mark
Address:     6739-11 Yamaguchi Oaza-Toyosato, Nozawa-Onsen-Mura, Shimotakai-gun, Nagano 389-2502    Tel no: 0269 67-0467
Kaiya Nozawa
Your Hosts:  Akiko and Nathan
Address:     9695-1 Oaza-Toyosato, Nozawa-Onsen-Mura, Shimotakai-gun, Nagano 389-2502  Tel no: 0269-67-0089
Here is a list of all the properties we book in Nozawa Onsen so can find the address of where you are staying Nozawa Onsen Accommodation Addresses
 Main Contact Numbers 
Tel; (+81) 050553260926
Mobile;  (+81) 09096696026
Whatts App ; +819096696026
Skype; markbaum
Email; stay@nozawaholidays.com 
Here is a map with these and and all other lodgings we will have you staying at in Nozawa. You can also see how to get to each place on the handy videos here; How to get to your accommodation videos
Town Map link ; Town Map Nozawa Onsen
Can get a great Birdseye view of locations around Nozawa here in this video
Nozawa Onsen Info Pack – Getting to Nozawa Onsen
You are probably already aware how great a place Nozawa is here are a few handy tips on how to get here.
There are a few options on getting to us
Shuttle Bus from the Airport direct to and from Nozawa; Snow Shuttle Bus Tokyo Airports to Nozawa
Train from Airport to Tokyo. Then Shinkansen Train from Tokyo to Iiyama and Nozawa Onsen Liner to Nozawa Train to Nozawa Onsen
Car from where ever you are in Japan up to Nozawa but note you don't need a car when in Nozawa
Here is a link that covers all those options with Timetables, Maps and more Getting to and from Nozawa Onsen
Getting Around Nozawa Onsen Village
Nozawa is a small village of 3600 people so can walk everywhere easily. There is also a shuttle bus that loops around the village and takes you up to Nagasaka gondola if needed. However as long as you can ski or board a little, most of the accommodation we place you in is an easy walk to the Slopes and Town and all the Restaurants, Bars, Shops, Cafes and Onsens. Taxis are also cheap for short distances in town and can call them or there is a Taxi stand in the centre of town.
Sending your bags up before you arrive or when leave – Takyubin or Black Cat Service truly amazing!
Japan being a relatively compact country means delivery is fast, cheap and efficient. If you want to send your ski gear from the airport or any convenience store in Japan, it is easy. Usually it takes 24 to 48 hours depending where you send it from and costs about 1500 to 3000 yen depending on the size and distance. Some good companies are located just outside customs when you arrive. Here is a link to more info ; Send your bags to or from Nozawa Onsen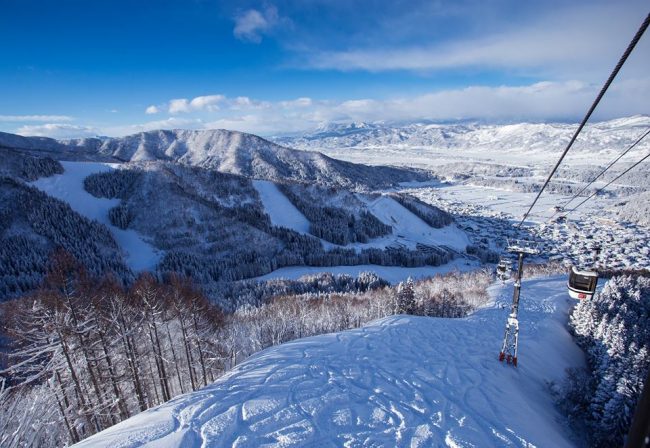 Nozawa Onsen Info Pack – Snow Services
Now for the fun stuff!
If you have already booked then its time to start looking at extra Snow Services you may need to make your Holiday perfect. The Snow Shuttle opened bookings already and busy times fill fast. Also Ski and Board Lessons, Rentals and Tours. You can do it all here;
Snow Services Nozawa Onsen
Shuttle Bus to and from Tokyo Airports or between resorts
Ski or Snowboard Lessons to get you gliding like a pro
Hire if Ski or Snowboards boots and all you need
A trip to the Famous Snow Monkeys, they are amazing
A Photo shoot to catch you styling on or off the slopes
Just click on each link fill in the booking form submit and one of our friendly staff will get back to you shortly to confirm.
Child Care Baby Sitting Nozawa Onsen – No Kids on a Powder Day!
If heading up to Nozawa for the ski season and have some little kids then who can take care of them so you can go for a ski is a pretty important thing! Lucky for you Nozawa has a few great options. Child Care and Baby Sitting Nozawa Onsen
Frequently Asked Questions Nozawa Onsen Japan
FAQ – No doubt you still have a few burning questions about your upcoming trip to Nozawa we have tried to answer most of them here for you; Frequently Asked Questions Nozawa  Still can't find the answer just email us to stay@nozawaholidays.com 
Still looking for Things to do in Nozawa Onsen check out this fun Video and show your friends to make them jealous!
Nozawa Onsen Info Pack – A guide to the Onsens or Hot Springs
One of the biggest draw-cards of choosing Nozawa Onsen for your ski destination is the 13 Free Public Onsens housed in Traditional Japanese Bath Houses and scattered about the Village. They are all Natural hot mineral water baths, perfect for the sore muscles after a hard day on the slopes. Also good for the environment as it is natural hot water, if taking a shower it needs to be boiled with Kerosene or gas. So get into them literally 🙂 Please check out this guide and great video and just ask the staff if have any questions. How to Onsen in Nozawa Onsen
Food Glorious Food – Nozawa Onsen Restaurant, Cafe and Bar Guide
Being a small Japanese Farming Village we have an abundance of fresh produce on our doorstep. This combined with some very creative people means there is an amazing selection of terrific places to eat in Nozawa. Naturally different types of Japanese food are on offer but there are also lots of other options too. You could almost come to Nozawa just for the food! Lots of great options for a quiet drink too. Check out our very informative guide here and download a copy to take around with you;
Nozawa Onsen Restaurant and Bar Guide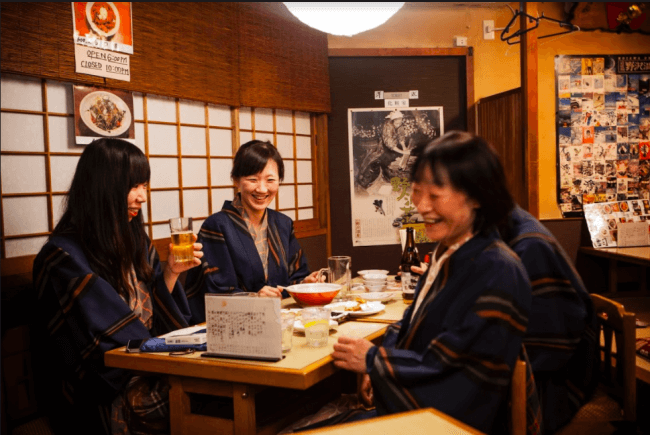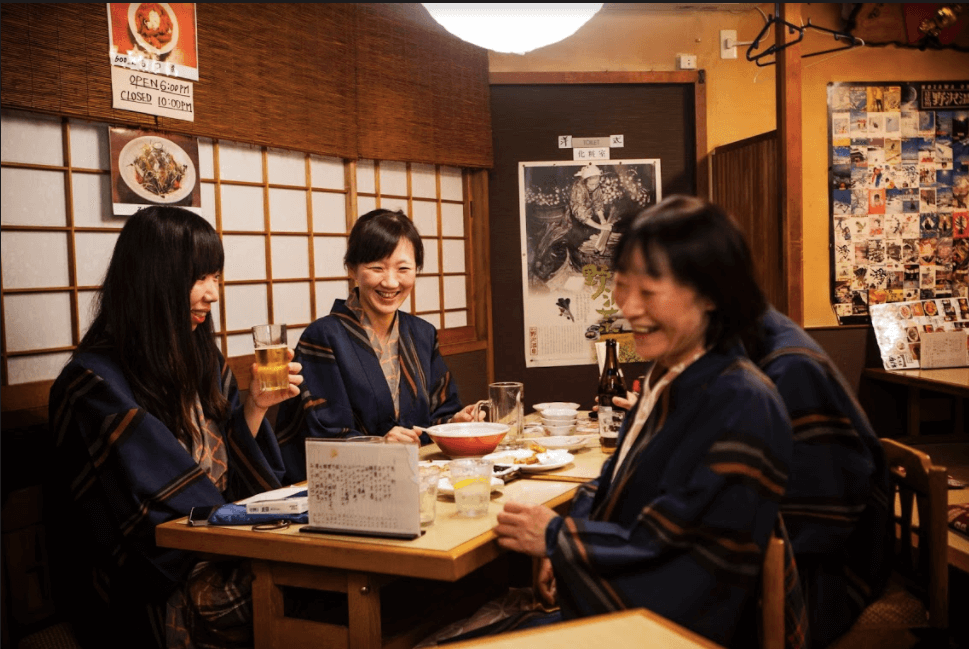 Welcome to Nozawa Onsen – Yoko So
We hope you have found this information helpful, please let us know if you need anything else. Nozawa Onsen is a very special place, steeped in history, culture and tradition we sincerely hope it stays this way. Please be respectful of the locals and their customs as you move about the Village and the slopes, don't drink too much or do the wrong thing. The locals of Nozawa Onsen are very welcoming and we hope that never changes. We look forward to welcoming you.
Arigatou Gozaimashita