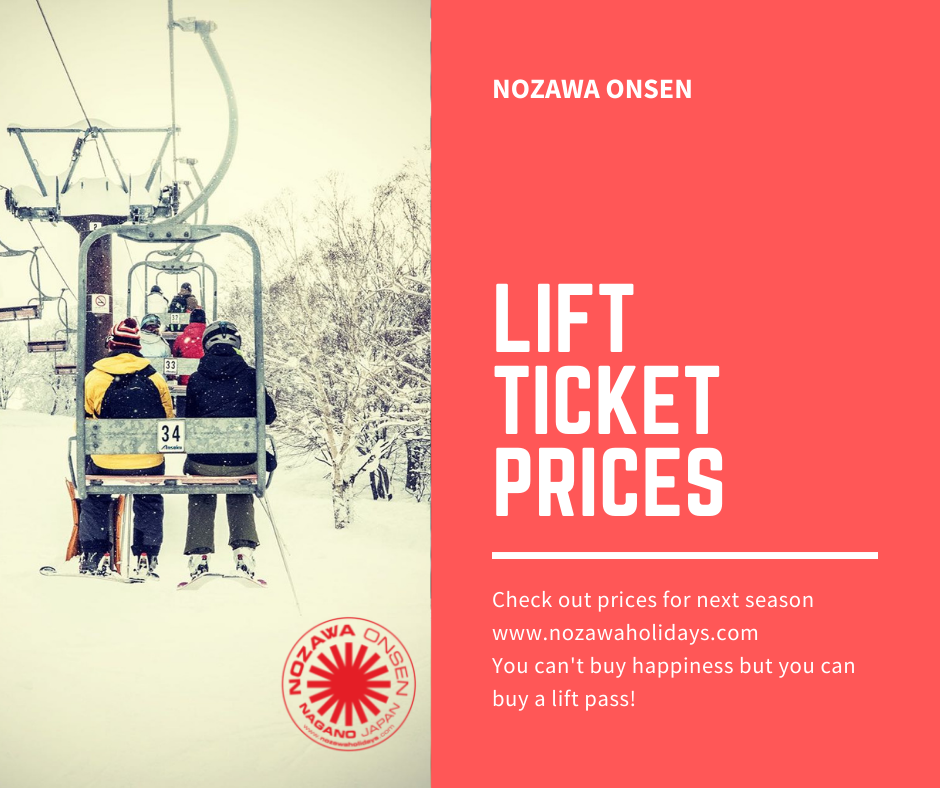 Nozawa Onsen Ski Resort has just released lift prices for the coming 2023/24 Season. 
Here is a table to Prices for the 2023/24 Season. Season Runs from Early December to the 7th of May.
Children and aged 6-15 Years. If 5 and Under it is free to ski if with a paying Adult
Tickets are non consecutive if bought from Nozawa Holidays.
NB; Must book at least 2 days in Advance on line. Otherwise just come to Nozawa Central Office to purchase 
All Tickets need to be collected from Nozawa Central Office unless other arrangements have been made; Address 〒389-2502 Nagano, Shimotakai District, Nozawaonsen, Toyosato, 6739 ; https://www.nozawaholidays.com/properties/nozawa-central-apartments-301/
Lift Pass Prices Nozawa Japan
It is non refundable so if you are not sure please come to our office to purchase when you arrive.
Lift ticket prices are subject to change until the Nozawa Onsen Ski Resort confirms the price. The above are correct prices for 2023/24 Season but may change for 2025 and beyond and will need to be adjusted if pre-purchased. Thank you
Season Passes for 2024 prices
The Spring season pass price is still subject to change.
| | | | | |
| --- | --- | --- | --- | --- |
| Season Pass | Adult | Child | Senior | Dates |
| Full Season | 89000yen | 54000yen | 71000yen | Nov 28 – May 8 |
| Spring March(TBC) | 41500yen | 25500yen | 33500yen | March 1 – May 8 |
Overall not a huge change from the past seasons but they probably needed to put them up a bit due to the following;
A new Gondola which is twice as fast and also larger being able to sit 10 people comfortably than the last gondola has been installed. It takes just 9 minutes to get to the top at Yamabiko and has no mid station. It's also great for Mountain Bikes in the Summer.
The Japanese Economy is finally experiencing some inflation after being stagnant for decades. Prices of all goods and services are slowly creeping up. Still pretty cheap though with the good exchange rate compared to many other parts of the world.
They replaced the old paper system with IC Card system or a Computerised Chip that will mean you can just tap your way on to the lifts. Rest assured the old farmers will still be clearing the seats of snow.
Note if you have already booked lift passes with Nozawa Holidays they were subject to change when the resort released the prices so there will be as slight change to your booking. Sorry for any inconvenience.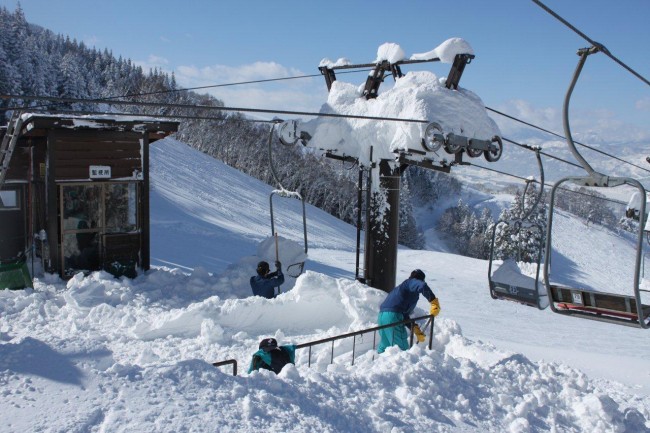 Value for Money
We get a lot of guests from Australia and they often say Nozawa is twice the snow for half the price compared to Australian resorts. Here is a table of ski resorts around the world and their lift ticket prices in $US; Source snowboard.com https://www.snowboard.com/news/top-stories/lift-tickets/ A few years ago now.
Russia – $27
Romania – $31
Africa – $33
United Kingdom – $47
Japan – $50
Norway – $52
Finland – $54
Spain – $55
Italy – $59
France – $62
Austria – $64
Chile – $70
Switzerland – $77
Canada – $85
New Zealand – $87
New England – $93
Australia – $101
Utah – $122
California – $145
Colorado – $163
If have not already booked accommodation check out some great Accommodation options in Nozawa here; Accommodation Nozawa Onsen Japan