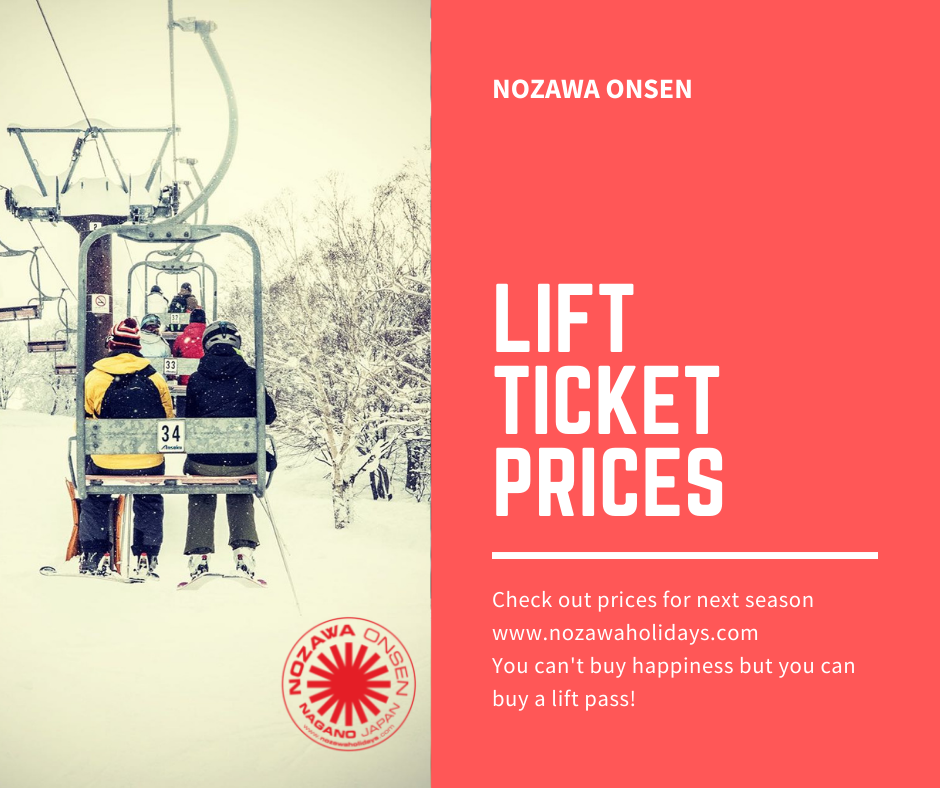 Nozawa Onsen Ski Resort has just released lift prices for the coming 2022/23 Season. As was expected there has been a slight increase across the board. It is only the second increase in about 15 Years and still some of the best value skiing in the world. The new Gondola was just installed last season too
Here is a table to Prices for the 2022/23 Season. Season it run to the 8th of May.
Children and aged 6-15 Years. If 5 and Under it is free to ski if with a paying Adult
Tickets are non consecutive if bought from Nozawa Holidays
NB; Must book at least 2 days in Advance on line. Otherwise just come to Nozawa Central Office to purchase 
All Tickets need to be collected from Nozawa Central Office unless other arrangements have been made; Address 〒389-2502 Nagano, Shimotakai District, Nozawaonsen, Toyosato, 6739 ; https://www.nozawaholidays.com/properties/nozawa-central-apartments-301/
Lift Pass Prices Nozawa Japan
It is non refundable so if you are not sure please come to our office to purchase when you arrive.
Season Passes for 2023 prices
| | | | | |
| --- | --- | --- | --- | --- |
| Season Pass | Adult | Child | Senior | Dates |
| Full Season | 78000yen | 47000yen | 63000yen | Nov 28 – May 8 |
| Spring March | 41500yen | 25500yen | 33500yen | March 1 – May 8 |
Overall not a huge change from the past seasons but they probably needed to put them up a bit due to the following;
A new Gondola which is twice as fast and also larger being able to sit 10 people comfortably than the last gondola has been installed. It takes just 9 minutes to get to the top at Yamabiko and has no mid station. It's also great for Mountain Bikes in the Summer.
The GST or Consumption tax is going up to 10% from current 8% which always creates some inflation across the country. There has not been much of that in the last 15 years.
They replaced the old paper system with IC Card system or a Computerised Chip that will mean you can just tap your way on to the lifts. Rest assured the old farmers will still be clearing the seats of snow.
Note if you have already booked lift passes with Nozawa Holidays they were subject to change when the resort released the prices so there will be as slight change to your booking. Sorry for any inconvenience.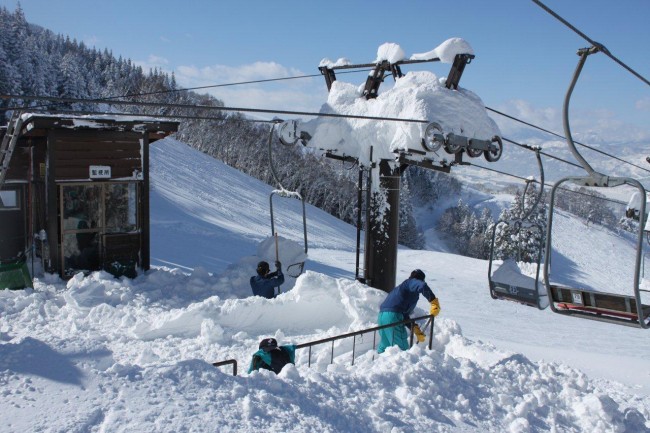 Value for Money
We get a lot of guests from Australia and they often say Nozawa is twice the snow for half the price compared to Australian resorts. Here is a table of ski resorts around the world and their lift ticket prices in $US; Source snowboard.com https://www.snowboard.com/news/top-stories/lift-tickets/
Russia – $27
Romania – $31
Africa – $33
United Kingdom – $47
Japan – $50
Norway – $52
Finland – $54
Spain – $55
Italy – $59
France – $62
Austria – $64
Chile – $70
Switzerland – $77
Canada – $85
New Zealand – $87
New England – $93
Australia – $101
Utah – $122
California – $145
Colorado – $163
The most popular lift pass we sell is 6 days which is 31500 Yen last year which works out at 5250 Yen a day or actually $US38 a day which puts us in 4th spot after Morocco! That is just $AUD57 a day for all the Aussie guests for less than Half price of Thredbo! If have not already booked check out some great Accommodation options in Nozawa here; Accommodation Nozawa Onsen Japan