Snow Conditions Nozawa Onsen Japan
After nearly 30 Seasons in Nozawa Onsen we get a fairly good idea of what to expect from month to month.
Mother Nature is of course very unpredictable so things often vary from year to year but hope this will help to give you a bit of an idea of what you may expect and help you to plan your snow holiday.
---
December in Nozawa Onsen
The ski season here, starts in December if lucky even the end of November. in 2017 we opened on November 25th after some early snow falls
The Nozawa Onsen ski resort will open the lifts in November if there is early snow – this happens only sometimes but more often in early December.
As a general rule, usually from December 10th onwards is pretty safe that you will get some snow to play in, ride a sled and usually a ski.
If not, a nice time to enjoy the cool Mountain air, grab an onsen and a big bowl of noodles.
By December 20th and leading into Christmas, we have had a few good dumps, most lifts are running and everyone enjoys a White Christmas and New Year.
---
January in Nozawa Onsen
Lately January has proven to be the snowiest month and sometimes it feels like the snow is never going to stop.
The last few years around the middle of January we have had over 100cm in a night and often 50cm dumps.
The base builds up quick and by the end of January there is normally over 300cm base at Yamabiko.
January is also the busiest month on the slopes as there are holidays and everyone has the winter vibe.
---
February in Nozawa Onsen
February is usually just a continuation of the January falls, with lots of base and lots of powder days and the shovels are working overtime to clear the streets and roofs.
It is generally quieter on the slopes and more of the hardcore skiers and boarders revel in the conditions.
We can occasionally get a warm patch too and see some sunshine for a few days before winter takes over again
---
March in Nozawa Onsen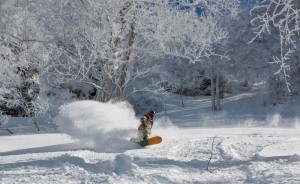 March is a surprise month and probably my favorite. We have a well-established base sometimes up to 500cm, beautiful crisp sunny days and still get some amazing dumps of powder.
All that and almost no one to share it with!
For some reason people seem to think that in March Winter is over but it is definitely not in Nozawa . So it is a time to switch on and get up here, we also do some amazing specials for March and April
---
April in Nozawa Onsen
April is officially the start of Spring Skiing. Depending on conditions can get a bit patchy down the bottom and they may close some of the lower lifts.
But there is a 1000m vertical difference in Nozawa Onsen between the top and bottom, so up top when you get off the Gondola can be a perfect Winter Wonderland and it is like a private resort for you and your friends on the slopes.
Towards the end can be some nice warm days too and can ski in a T Shirt, an awesome feeling. Great for the kids and Easter and Spring Holidays.
---
May in Nozawa Onsen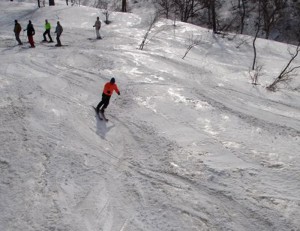 The Nozawa Onsen Ski Resort will usually stay open until around May 10th and celebrate the long Golden Week Holiday in style. There is a great vibe in town and life is easy as there is generally no snow in the Village and can Mountain bike and Onsen to your hearts content.
Up top it is spring conditions usually slushy and fun. I have seen it snow in May too. We do super cheap deals in Spring so just ask, up to 40% off and lift tickets are discounted too.
After May 10th everyone breathes easy and the Farmers take to the slopes and then begins the warm summer and long wait until the first snow falls again
What ever your month drop the friendly team at Nozawa Holidays a mail and request a quote they will help you with everything you need for a perfect ski holiday to Nozawa
Here is a link to book ; Quote Now for Ski Holiday to Nozawa Japan