People often talk about that perfect little beach shack they dream of. It's similar wanting that connection in the snow and looking for the perfect mountain hut to escape to and enjoy all the elements to the fullest. Harvest House Nozawa is that place. It's an amazing shack surrounded by snow-covered rice paddies with superb 360-degree views that will make you feel like you are in the middle of nowhere but you are only 100m from the main Nagasaka Gondola in Nozawa Onsen Ski Resort!
It underwent a full renovation just before last season and is one of the most unique properties in Nozawa Onsen.
Eco House
Feel even better about staying here as the house is designed with the environment in mind.
Fully insulated using the latest cellulose fibre insulation along with pavatex wooden core and external natural wood cladding. It has a series of breathable layers between you and the outside cold
Heat Pump, heat exchange system with underfloor heating installed through the whole house for your comfort. It pulls the heat from the outside air and condenses it so does not use any gas or kerosene to heat the house
All the windows are double glazed with argon gas in-between the panels for great views with no heat loss
The walls are finished in traditional Japanese plaster which will absorb heat during the day and release it at night
All this adds up to a comfortable stay and a very low carbon footprint. Check out this great video of Harvest House in Nozawa Onsen.
Review
Together with 3 of my friends – write this thank-you to Nozawa Holidays and the wonderful staff – for our fantastic week's holiday we have just enjoyed in Nozawa Onsen
We were lucky to have been one of the first groups to stay in the newly renovated Harvest House – only 200 steps from the Nagasaka Gondola.
Not only is it's position fantastic, but also – the renovation is superb. It comfortably sleeps 4 adult males, or would be ideal for a family of 5 or 6. The fittings are very tasteful, the views superb, and the heating – spot on. The main living area is delight to relax in after a hard day's skiing.
What also makes the holiday great – is the staff that help us get there, help us when we are there, ad ensure an easy exit back to the bus stop.
We thank Kerri, Hiroko and Isaac for all their assistance – responding to emails so promptly, helping out whenever asked, and always – making you feel like a special customer.
We will be back – and we will sing the praises of Nozawa Holidays and Harvest House to all of our skiing friends!
Facilities
Facilities include:
2 Bedroom plus loft space.
Own drying room and ski storage space at the house
Modern bathroom with under floor heating
Comfortable living and dining room with amazing views
Free internet access
Self-contained in pole position
Close to everything you need for the perfect snow holiday
Harvest House consists of 3 separate sleeping areas
including 2 Bedrooms and a loft area
Bedroom 1 – Queen bed
Bedroom 2 – Bunks with double bed on the bottom and single bed above
Loft – Two Single beds that can go together as a double bed if prefer
Sleeps up to 7 people in comfort.
Rates
Per Night Rates From:
High season prices starting from 70,000 Yen per night, sleeps up to 7 people
Early March prices starting from 64,750 Yen per night, sleeps up to 7 people
Off peak season prices starting from 59,500 Yen per night, sleeps up to 7 people
Minimum of 7 nights per stay
Map
Our properties are all well located very close to the snow, please have a look at the below maps (click for the PDF file) to see the position, lots of great places to eat and local landmarks. Free public hot springs housed in traditional buildings all round the village. Perfect after a hard day skiing with Nozawa Onsen Restaurants, pubs, ATM, Post Office and Supermarket all an easy stroll away.
Harvest House is located on our town map ref: G7.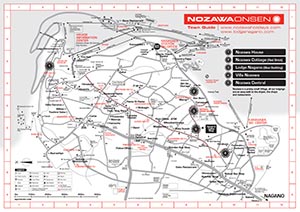 Enquire within to get your quote!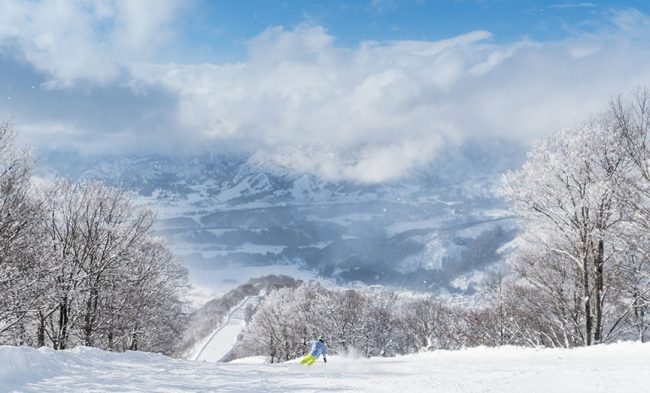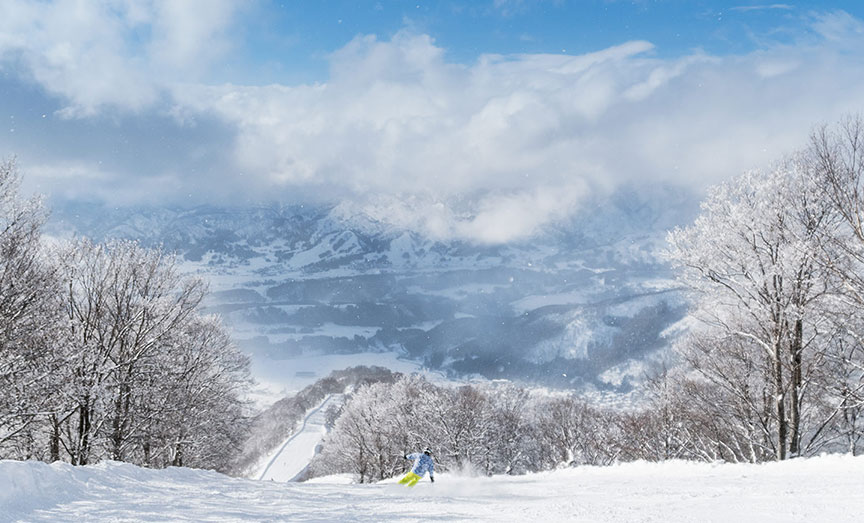 Looking forward to meeting you!
The Nozawa Holidays Team