Description
Mitsubachi Maya Lodge is an east meets west Japanese run Lodge.
It is located just down the road from Lodge Nagano, close to the slopes, the centre of the village and onsens. The beautiful Pink and Green building – you wont miss it!
Mitsubachi Maya Lodge has 13 rooms with a mix of Japanese and Western Style. Six rooms have their own private bathrooms.
The lodge is run by a lovely Japanese couple, the Ikedas, who are both amazing cooks and often whip up a blend of culinary delights in the kitchen.
They are farmers during the Summer so a lot of the produce comes from their own farm, including the famous Tomato Pizza Sauce and Wild Grape Wine!
Be sure to book in for dinner one night – a night to remember!
They also have a side business in carpet and wallpapering, so there are some interesting designs throughout the Lodge.
Facilities
Lots of facilities including:
Breakfast included (Japanese and Western)
The Ikedas do not speak English but we have a English speaking staff member
Wireless internet
Lounge with a fireplace
Drying room
Laundry
Complimentary Tea and Coffee all day
Communal male and female bathrooms
Free access to our ski locker
Ski Locker
As a Nozawa Holidays guest, you also have access to the Takasago Ski Locker – a very easy and convenient way to store some gear whilst you hit the slopes!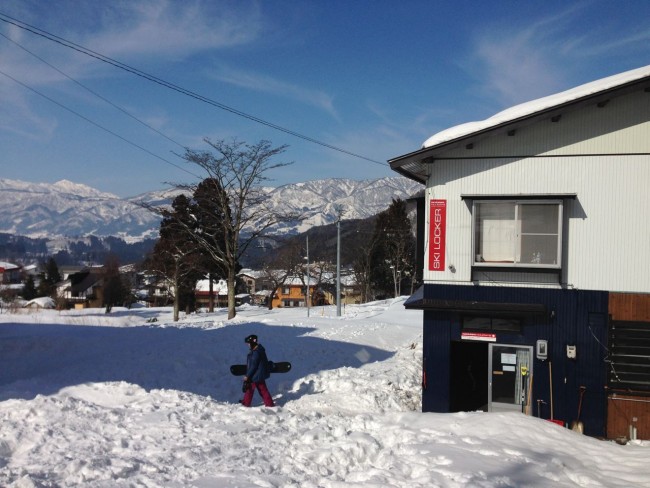 Close to…
Closest chairlift- Nagasaka Gondola station 400m
Bus stop- Shinden Bus Stop 100m
Restaurants & Bars 300m
Convenience store 400m
Rates
Our affordable rates all calculated per night:
Adults with ensuite – 8500 Yen
Kids with ensuite – 5500 Yen
Adults share bath (8 jo) – 7000 Yen
Kids share bath (8 jo) – 5000 Yen
Adults share bath (6 jo) – 6500 Yen
Kids share bath (6 jo) – 4000 Yen
Twin Beds – 6500 Yen
Infant 0-2 – 2000 Yen
Map