Description
Nozawa Cottage is a self-contained cottage, right by the main gondola of Nozawa Onsen. Depending on what you're looking for, Nozawa Cottage might be in the perfect position for you.
Set right across the road from the slopes,so you can ski in ski out and it's only 150 meters to the main Nagasaka Gondola!
360 Degree Panorama
Click image for full panorama!
You can kick back in the living room and watch people gliding down the powder on one of Nozawa's steepest runs, catch the ski jumpers on the Olympic Jump Course, or watch the kids slide past the door.
Nozawa Cottage had a pretty unique layout. The building is shaped like a triangle, and we fully renovated the inside just this year with a contemporary feel.
Comfortable For 6, But Can Sleep Up To 8
There are two main bedrooms, plus two small sleeping areas:
The bunk sleeps 4 in comfort
The main bedroom sleeps 2 in style
There is then a Tatami room which can be used as a room for small children or a sitting room for the main bedroom
There is also a loft upstairs for the young or young at heart with a semi double bed and awesome views to wake up to
Wicked Spot!
"Wicked spot!

Really cool house that gave us everything we needed and more. We feel the position was unbeatable, the views out the loungeroom window were priceless and the value really great."

Mary-Ellen, UK

Facilities
Nozawa Cottage is fully self-contained and has:
Comfortable Living Area with movies, books and magic views
Stainless steel kitchen with all the appliances and equipment you need
Two Western style toilets and one shower room
Drying room for clothes and boots
Washer/dryer
Hair dryer
Ski Locker
As a Nozawa Holidays guest, you also have access to the Takasago Ski Locker – a very easy and convenient way to store some gear whilst you hit the slopes!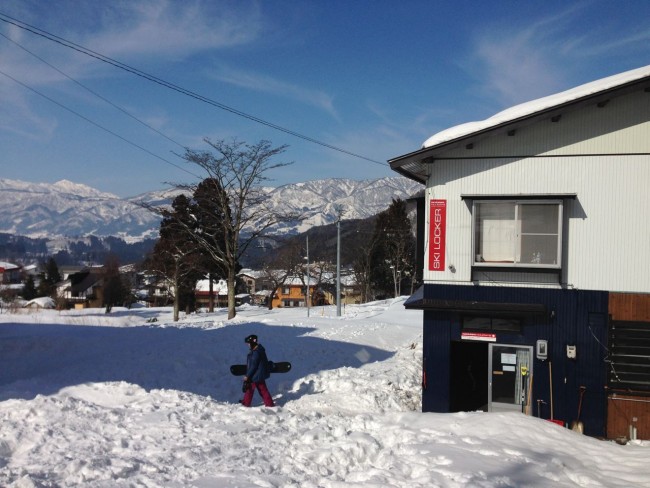 Close To…
At Nozawa Cottage, you're close to everything:
Across the road from the slopes and just 150 metres to the main Nagasaka Gondola
Just 400 metres to the middle of town
A very short walk to the many great restaurants and bars
Ski in ski out
Our Lodge Nagano is also just down the road, so we have staff on hand should you need anything anytime. Nozawa Cottage is truly a slice of heaven in Nozawa Onsen.
Our properties are all well located very close to the snow, please have a look at the below maps (click for the PDF file) to see the great position of Nozawa Cottage, lots of great places to eat and local landmarks.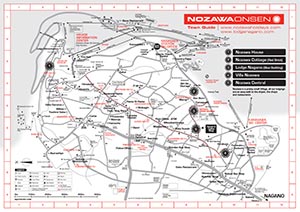 Free public hot springs housed in traditional buildings all round the village. Perfect after a hard day skiing with Nozawa Onsen Restaurants, pubs, ATM, Post Office and Supermarket all an easy stroll away.
Rates
Nozawa cottage provides terrific value for fully self contained accommodation for up to 8 people right on the slopes!
Rates
High season prices starting from 70,000 Yen per night, sleeps up to 8 people
Early March prices starting from 64,750 Yen per night, sleeps up to 8 people
Off peak season prices starting from 59,500 Yen per night, sleeps up to 8 people
Minimum of 7 nights stay
Enquire within to get your quote for your stay!
FAQ
Is there a minimum stay for Nozawa Cottage?
Yes, most of our prices are based on a minimum 7 night stay.
As you might appreciate, the costs of cleaning up after shorter stays makes it very difficult to accommodate short stay guests in the Cottage.
How many does the Cottage sleep?
The cottage sleeps a maximum of 8 people.
How far from the slopes is the Cottage?
Excellent question – the Cottage is right beside the slopes. In fact, they're literally across the road so you can ski in ski out.
Plus you're only 150 metres from the main Nagasaka Gondola!
How far to the centre of town?
The centre of town is 400 metres away – there are many terrific restaurants scattered throughout the town so you're never too far away!
Video