Description
Villa Nozawa is one of the most popular Ski Lodges in Nozawa Onsen
Spacious, Family Friendly, Knowledgeable genuine Japanese and overseas staff. It is your perfect blend of Japanese Style with western comforts in Nozawa Onsen.
Absolutely magnificent sweeping views across the valley and Nozawa Onsen Resort.
We are one of the original ski lodges to cater for overseas guests in Nozawa Onsen. Operating for 10 years now we have added special touches and done stylish renovations over the years.
No wonder Villa Nozawa is rated #1 of 133 Inns in Nozawa – don't just believe us, see what they say on Trip Advisor!
360 Degree Panorama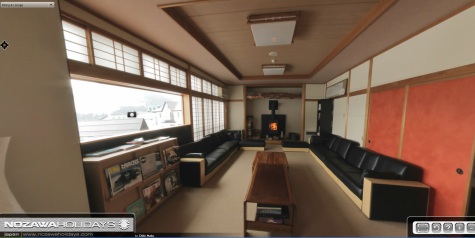 Click image for full panorama!
Wonderful Japanese Feel
The whole Villa provides the feeling of space with large bedrooms and lounge areas and magnificent views.
Most of our rooms here at Nozawa Holidays are Japanese Style Tatami rooms with really comfortable Futons, we did this to ensure you get the full Japanese experience.
All the rooms are bright, clean and quiet with terrific outlooks on the surrounding mountains and village.
The rooms are spacious making it great for families in particular – the managers have got kids of their own, so it is a very child friendly Villa.
Rooms include:
Japanese Tatami Room and build-in bunk with Share Bathroom
Japanese Tatami Room with Private Bathroom
Western Style Room with Share Bathroom
Single Room with Share Bathroom
Communal Lounge A Huge Hit
With our spacious and open living area on the ground floor, there's plenty of opportunity to relax, meet new people and chill out over a coffee or beer.
Gather around our new fireplace to shake the chill on those cold nights!
"The Villa was spotlessly clean with the rooms made up in traditional Japanese style, whilst the communal dining and lounge area was a great place to relax, chat with old and new friends and generally chill out/warm up.

The value can't be beaten with the stay (price includes accommodation, breakfast and ski pass) being cheaper than staying in Australia and skiing (and the skiing in Nozawa is amazing with zero waiting times on lifts)."

Brendon S, Queensland
Facilities
Villa Nozawa has all the facilities to make your stay comfortable and enjoyable.
Only 100m to the slopes
Spacious rooms
Relaxing lounge area and chill out home theatre room
Fireplace to shake off the chill
Huge communal kitchen and dining room
The flexibility of using the kitchen to cook your own meals
Western style toilets and basins on every floor and cubical showers downstairs
Hair Dryer
Wireless & Public Internet, DVD, lots of great movies and stereo
Laundry facilities with drying room for ski gear
Beer and Drink Vending Machine/ Draft beer available in the evening
Huge ski room and work bench
English speaking staff
Rental equipment
Ski & snowboard lessons
Village hotsprings free to use
Ski Locker
As a guest who rented from Nozawa Holidays rental shop, you also have an access to the Ski Locker for your skis and snowboards – a very easy and convenient way to store some gear whilst you hit the slopes!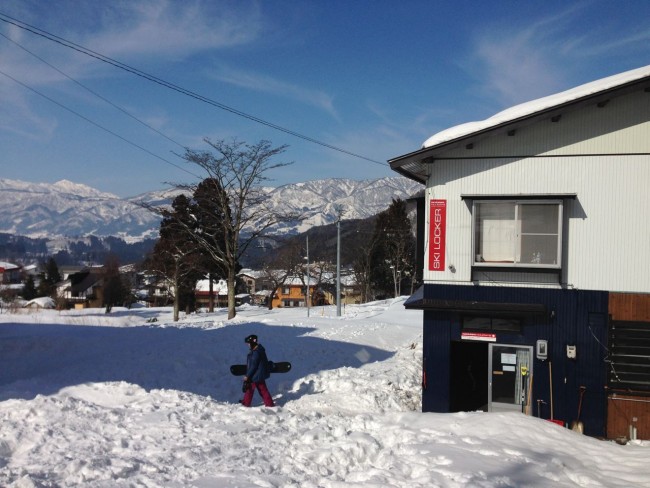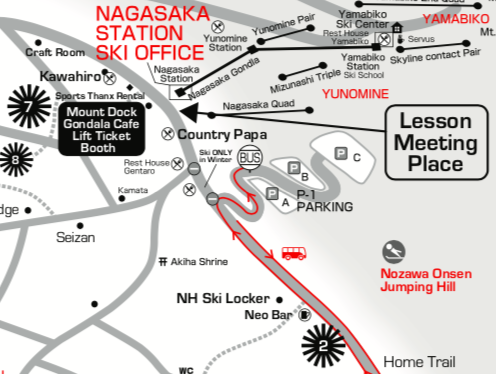 Rates
Rates for 2024 (from per person per night including a daily breakfast)
Twin Tatami Room with Shared Bathroom – 8100 Yen
Double Bedroom with Private Bathroom –9450 Yen
Triple Tatami Room with Shared Bathroom – 7200 Yen
Single Tatami Room with Shared Bathroom – 16200 Yen
Children under 15 half price in same room
Packages
Three's a Magic Number: 38,000 Yen Twin Share (2024)
A great deal that includes – 3 nights accommodation + 2 days lifts tickets + breakfasts
Unwind Week: 94,500 Yen Twin Share (2024)
Includes – 7 nights accommodation + 6 days lift tickets + breakfasts.
Amazing value for some of the best skiing in the world!
Feeling Like a Local: 131,700 Yen Twin Share (2024)
Includes – 10 nights accommodation + 8 days lift tickets + breakfasts
And remember, it's even cheaper for triple or quad share!
Packages Made To Suit
We can design a package to suit your individual needs, with different number of days and inclusions.
Just contact us and ask!
Video
Getting here from the bus stop:
Map
You're close to everything here at Villa Nozawa Nozawa Onsen:
100 metre walk to the lifts
Great restaurants and bars within easy walking distance
50 metres to a public onsen
Our properties are all well located very close to the snow, please have a look at the below maps (click for the PDF file) to see the great positions of Villa Nozawa (No.4 on the map), lots of great places to eat and local landmarks.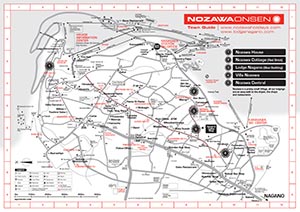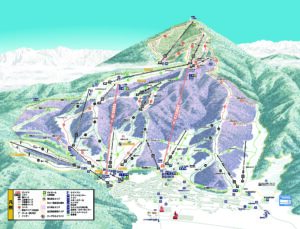 Free public hot springs housed in traditional buildings all round the village. Perfect after a hard day skiing with Nozawa Onsen Restaurants, pubs, ATM, Post Office and Supermarket all an easy stroll away.
Check -In Info
Check-in Information for Your Stay
Address:
6631 Oaza-Toyosato, Nozawa Onsen Mura, Shimo-Takai Gun, Nagano, 389-2502
389-2502 長野県下高井郡野沢温泉村大字豊郷 6631
Please check this link for getting to Nozawa Onsen.
Villa Nozawa is #4 on the town map and the closest bus stop is Nakao Bus Stop (map ref: B10). Here is a video to help finding Villa Nozawa from the bus stop.
*The current Nakao Bus stop is about 200m down the hill.
Contacts: +81(0)269-67-0039 or +81(0)80-6935-6026 (you can use WhatsApp!)
Check-in: 3pm-7pm
Early check-ins: You are more than welcome to leave your luggage (including ski and snowboard bags) with us until you are able to check-in.
Late check-ins: Let us know if you plan to arrive after 7pm and we will leave your room numbers and any required information at the reception for that evening.
There is limited car parking at Villa Nozawa so please let us know if you are coming by car in advance and we will arrange a car park for you.

Check-out: 10am
Luggage Transfer
You can transfer your luggage from / to wherever you like in Japan. To send them to us please write your booking names and your check-in date and we will take care of them until you arrive.
Complete Your Holiday
If you haven't seen the variety of snow services we offer to our guests, please feel free to check out what we offer.
Cash in Nozawa Onsen
Japan is predominantly a cash society, and it can be difficult to find places that accept cards as payment. Please ensure that you bring enough cash in Yen with you. You can exchange money at the airport bank, or before you leave home.
There are two ATMs in Nozawa Onsen. One is located next to the Tourist Information Office which accepts most bank cards. The other ATM is located just inside the Post Office glass sliding door, which is open until 6pm each evening.
Restaurants around Town
There are a large array of restaurants and bars around Nozawa Onsen, all of which have a uniqueness about them. Please feel free to check out our free Restaurant and Bar Guide to see what takes your fancy!
Any other questions? Check here: FAQ
Book Now
Quote Request