Nozawa Gondola Apartments Nozawa Onsen
Nozawa Gondola Apartments have four apartments available: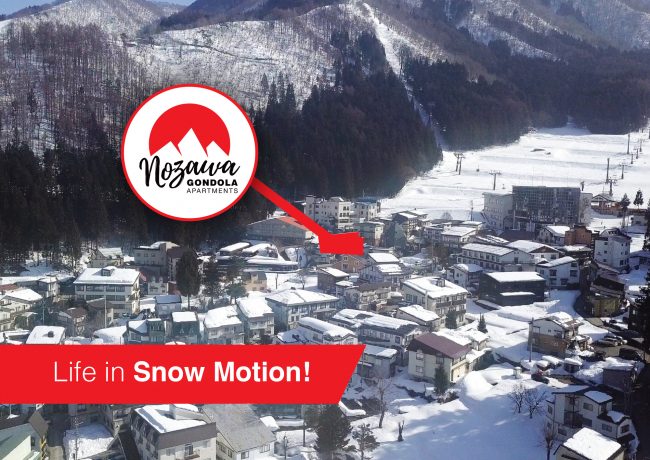 On any Ski Holiday Location can play a major role in your holiday experience. All of Nozawa Holidays properties are within walking distance to the ski slopes and the Village. Nozawa is a pretty compact little town so nothing is far away. However our latest accommodation offering takes it all to the next level, located just 20 meters from the slopes and another 30 meters to the Gondola or even closer to a Ski Lift. It is a Traditional Japanese Inn that has been thoughtfully renovated. Retaining the original charm and beautifully designed and crafted by local tradesmen along with international designers Hepburn Design.
Not only the location but the set up are sure to make you feel right at home and ensure you have a holiday in Nozawa Onsen to remember for many years to come.
Nozawa Gondola Apartments Nozawa Onsen
Nozawa Gondola Apartments consists of the following Apartments
2 x 3 Bedroom Apartments – Numbers 2 and 3 – From 70,000 Yen a night
2 x 2 Bedroom Apartments – Numbers 1 and 4 – From 50,000 Yen a night
Facilities to make for a perfect stay – All apartments have the following
Self Contained with brand new stylish and practical kitchens with all the appliances including dish washers
Own contemporary spacious Bathrooms with Western Toilets
Underfloor heating using Eco Heat pump system and beautiful oak wooden floors
High Speed Fibre Optic Internet and Amazon TV for Netflix
Open plan living, dining kitchen with views of Village and surrounding mountains
Just a stones throw to the slopes and Gondola
Heated drying room and Ski Storage Area
Bilingual Staff on hand to help with anything you need
Cosy Foyer Lounge space with Fire Place for Apres drinks
Free Onsen just 200m away and all equipment supplied
Nozawa Gondola Apartments Nozawa Onsen
With the full support of the Nozawa Holidays staff and access to Rentals, Lessons, Tours and more Nozawa Gondola Apartments will be hard to beat for your next stay in Nozawa Onsen Japan