Description
One of the longest running Traditional Ryokan and most amazing in Nozawa!
This classic Japanese style Ryokan with amazing wooden architecture and interiors. Impeccable Japanese service and atmosphere. Ideally located next to Ogama the cooking Onsen!
If you want a splurge, it is sure to be a stay to remember!
Facilities
Facilities include:
Inhouse Onsen baths
Unique lounge areas and dining experience
Mainly Tatami style rooms but also some with raised Twin Beds
Most rooms have own bathroom but some with only WC and use of Onsen
Free Internet Access
Views over the cooking onsens and village
Amazing breakfast included
Ask about Kaiseki Dinner – yum!
One of few traditional Japanese Ryokan Experience.
Rates
Per Night Rates From:
Adults – 16,000 Yen per person
Map
Our properties are all well located very close to the snow, please have a look at the below maps (click for the PDF file) to see the position, lots of great places to eat and local landmarks.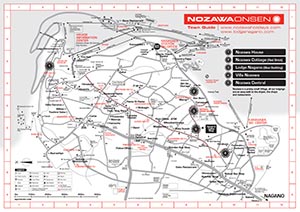 Free public hot springs housed in traditional buildings all round the village. Perfect after a hard day skiing with Nozawa Onsen Restaurants, pubs, ATM, Post Office and Supermarket all an easy stroll away.
Looking forward to meeting you!
The Nozawa Holidays Team