Nozawa Central has three apartments to choose from:
Description
Nozawa Central Apartments is a hub with everything you need in Nozawa.

Just check out what others say on Trip Advisor!
Set towards the middle of Nozawa Onsen, Nozawa Central is in the right spot to enjoy this wonderful village. These are some of the largest apartments in the Village, and have been recently renovated. We also have a great ski locker on the slopes near the main Gondola to leave your gear free for all guests.
#101 is a three bedroom apartment on the ground floor. It's spacious and comfortable, and sleeps up to 8. Perfect for a group travelling together!
Facilities
Nozawa Central Apartments are fully self-contained and have:
Western Style Beds and Japanese Futons
Each Apartment has full size kitchens with all the appliances and equipment you need
Western style toilet and Bathroom with shower and double wash basin
Spacious living areas with Mountain views
Hair Dryers, Heating in each room, and much more
The Building also has
Drying room for clothes and boots
Washer/dryer
Rental store in house
Free Wifi throughout the building
Ski Locker
As a Nozawa Holidays guest, you also have access to the Takasago Ski Locker – a very easy and convenient way to store your gear. Situated near the slopes and main Nagasaka Gondola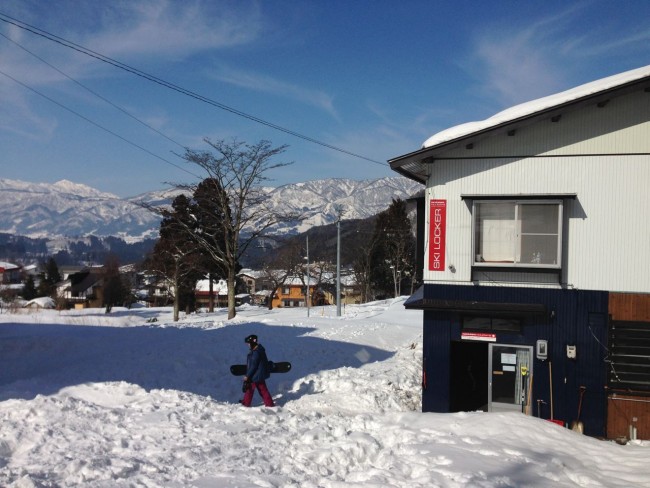 Close To…
At Nozawa Central Lodge, you're close to everything:
Just 300 metres to the slopes
Just 300 metres to the middle of town
A very short walk to the many great restaurants and bars
Sparena also over the road
Free public hot springs housed in traditional buildings all round the village. Perfect after a hard day skiing with Nozawa Onsen Restaurants, pubs, ATM, Post Office and Supermarket all an easy stroll away.
Rates
Nozawa Central provides terrific value for fully self contained accommodation
Rates from
3 Bedroom Apartments
High season prices starting from just 70,000 Yen per night, sleeps up to 6 people
Early March prices start from just 64,750 Yen per night, sleeps up to 6 people
Off peak season prices starting from 59,500 Yen per night, sleeps up to 6 people
Minimum of 7 nights stay
Enquire now for a quote for your stay!!
FAQ
Is there a minimum stay for Nozawa Central?
Yes, most of our prices are based on a minimum 7 night stay.
How many does the 3 Bedroom Apartment sleep?
3 Bedroom Sleeps a maximum of 8 people.
How far from the slopes is Nozawa Central?
Just 300m to the slopes and we have a ski locker free to use with a drying room near the main Gondola
How far to the centre of town?
The centre of town is 300 metres away – there are many terrific restaurants scattered throughout the town so you're never too far away!
Video
Getting here from the bus stop: