Train Nozawa. Trains, more trains and no automobiles to Nozawa
The train system in Japan is so good it is almost hard to think of using any other form of transport. But for sure they all have their advantages and disadvantages.
Nozawa is pretty small and we get so much snow a car is not really necessary and a hassle to park and dig out!
Today we are talking trains and the JR or Japan Rail System. Japan is a relatively compact country with a dense population particularly in the large cities so it makes it beneficial to set up rail networks. However they have some major obstacles, mountains being a big one with 73% of Japan being mountainous. As the cities continue to grow the subways pile up on top of each other underground, need to build a lot of tunnels.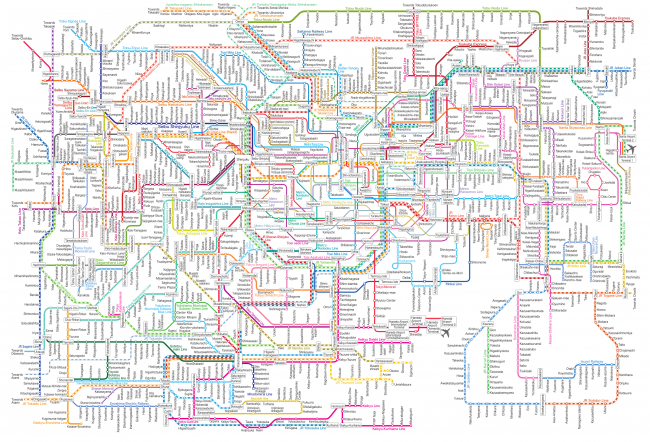 Despite the engineering feats and planning that is needed Japan takes it all in their stride and are renowned for having one of the most efficient, fastest and on time train systems in the world.
JR – The History Train Nozawa 
JR or Japan Rail is at the heart of it all, it used to be owned by the government and called the Japan National Railways but in 1987 it was privatized and is now owned by 7 private companies. JR East, West and Central form the biggest holding and operate the Shinkansen, most of the intercity and commuter rail services. Most Japanese don't even consider them to be private as they are so big and prominent.
Anyway enough of the history lesson what does all this mean for you?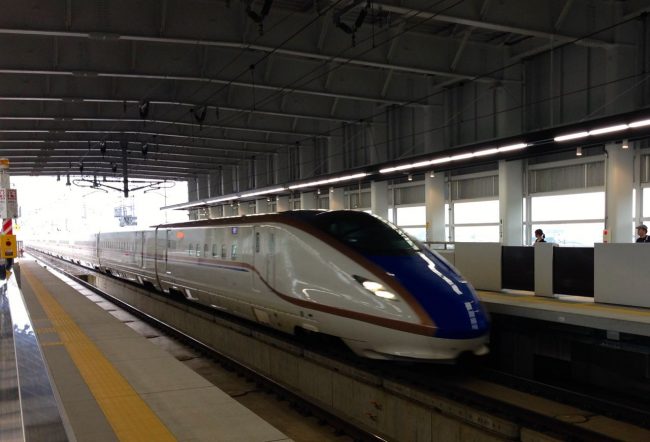 Travel from the Airport in Tokyo by Train Nozawa
If you are coming up from the Airport in Tokyo either Narita or Haneda then the shuttle bus may be your easiest option anyway as is a no brainer can just get on and get off in Nozawa. No need to change trains and is the only option if coming straight off an evening flight and want to come straight up.
Here is a link to book the Snow Shuttle Snow Shuttle to Nozawa Onsen
If spending a few nights in Tokyo or if prefer the train then it is pretty straightforward. Here is a great link with all the info
Note the timetables will be updated before the season at the end of November. Can check all times and fares on Hyperdia too, great site: http://www.hyperdia.com/en/
Narita To Nozawa in 3 Easy Steps
Step 1. Narita to Tokyo or Ueno JR or Keisei Line ( I prefer Keisei as a little cheaper and just as fast. Also takes you direct to Ueno, which is a cool little area, and closer to Nozawa than Tokyo on the Shinkansen line. Takes 41 minutes on the Keisei and costs 1240 Yen
Step 2. Ueno or Tokyo to Iiyama on the Shinkansen the Hokuriku line. This is the new one that got completed in March last year. Amazing set up and can be in Iiyama just near Nozawa in just 1 Hour and 40 minutes and costs 8,420 Yen
Step 3. Bus or Taxi from Iiyama to Nozawa Onsen. The Nozawa Onsen Liner meets most of the Shinkansen trains and takes just 20 minutes to Nozawa costs 600 Yen
JR Pass or not to JR Pass
Many guests coming to stay with us in Nozawa ask if they should get a JR Pass or not. It totally depends on how much train travel you are planning to do. Pretty easy to work out if worthwhile or not by using the Hyperdia link above as it tells you what each sector will cost so can add them up and compare to the cost of the pass! Simple.
On the Pass Prices you can get 2 types of JR Pass that are handy if coming to Nozawa on your travels.
The JR East Pass ( Can Buy in Japan) Train Nozawa
This pass will only cover you for the Nagano and Nigata area which is good for Nozawa and some sightseeing in Tokyo. See map and prices below. For 18,000 Yen it is worth it just for return to Nozawa and leaves you 3 more days to explore the region
Can see more info here JR East Rail Pass

The JR Pass (Must still buy abroad – may change)
This pass is good for all of Japan except for a few exceptions and can get for multiples of 7 days. Can do Nozawa, Tokyo, Kyoto, Hiroshima and many other great locations. Well worth it for ease and savings if plan to travel around Japan. Can buy at HIS, JTB, STA and many travel offices in your own country before you come. See prices below and here is a link Japan Rail Pass

Booking Train Nozawa tickets in advance
People often ask us about this and to be honest you really don't need reservations. It is almost impossible to do from abroad anyway. Unless you are travelling in the peak New Years time you will be fine there are so many trains and usually plenty of seats. You can book easily at most train stations once you arrive in Japan so if worried book up when you get off the plane!
Hope this info helps for a smooth journey around Japan and we look forward to welcoming you to Nozawa Onsen soon.