Book Online Ski Board Lessons Nozawa Onsen
If you or your group should want lessons while you are staying in Nozawa then please fill in the below as soon as possible.
Spaces are limited, so make your booking now to avoid a sore bum!
We have operated our ski school in Nozawa Onsen for almost 20 years now, and have an experienced & knowledgable team of English-speaking instructors eager to make the most of your snow experience.
Private Lessons/Resort Guiding
We have great English Speaking in-house instructors. They are experts in both skiing and snowboarding and will be happy to give you some tips no matter what level you are: beginner, intermediate or advanced. We have been in Nozawa for almost 30 Years now and know the mountain and village well.
Lessons/Guiding prices are per instructor not per person can have up to 4 students. For every additional person, an extra charge will be added for lessons. If guiding same price for up to 8 people and need to be similar level.
If you are only one person and prefer to join a group, we will try to coordinate for you if possible.
Please note that we have a 48-hour cancellation policy and bookings cancelled within this period will be charged 100%.
Please meet at Mt Dock Gondola Cafe below the main Gondola 15 minutes prior to your lesson time.
If coming in March or December also check out our Ski and Snowboard Improvement Courses. A great way to get your riding to the next level with a bunch of like minded people and terrific coaches Ski and Board Improvement Course Nozawa Onsen
Please wait for confirmation from the Ski School Manger before making payment for lessons.
Book Your Private Lesson – Ski Board Lessons Nozawa Onsen
Kids Lessons
Kids Group Lessons – Little Takas. Open for all kids age 5 to 10
They say you are never too old to start skiing but it sure helps if you start young! We have a lot of families come to ski in Nozawa Onsen and it is a terrific sport for the whole family to enjoy.
We will be offering beginner to intermediate kids group lessons everyday from 22nd of December until 31 of January( Subject to change). To join you need to commit to at least 3 days of Full lessons. If cannot make this, no problem, just book a private lesson with us. For other dates please ask if have numbers will run.
First timers must also start with a private lesson until good enough to join groups

Times and Pricing for Kids lessons
It's 10,500 yen per child and that includes
Morning Session 10:45 – 12:45
Lunch break (Food at own expense)
Afternoon Session 13:30 – 15:30
Lift Tickets:
Kids 5 and under lift pass is free of charge.
Kids 6 and Over – sort tickets out when booking.
Book Your Kids Lesson – Ski Board Lessons Nozawa Onsen
Meeting Point
All the instructors from Nozawa Holidays will be at Mt Dock.
Please be at Mt Dock below Nagasaka Centre House 15 minutes prior to starting lessons.
Please allow plenty of time especially if not used to moving in ski gear!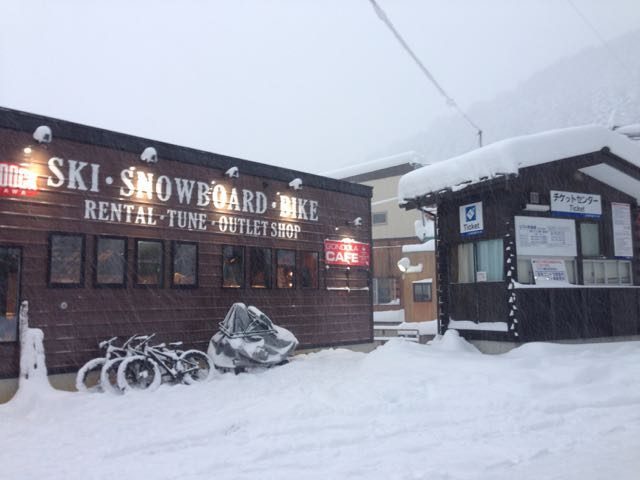 From the Karasawa side
If you are coming from the Karasawa area for your lessons, take the free shuttle bus from below the ticket office , Nagasaka Gondola car park A, and walk down. If you are confident enough to ski over you can take the Nagasaka Gondola Link and ski over to Nagasaka Station.
Terms & Conditions
Booking Terms & Conditions – Ski Board Lessons Nozawa Onsen
Please note that advanced bookings are strongly recommended to ensure availability. Particularly for reservations during New Years and January.
General Terms & Conditions
All Lesson bookings are non-refundable after issuance. All products & services must be paid in full prior to start time.
During bad weather conditions, in the event of there being no available safe terrain appropriate to run the guest's lesson, Nozawa Holidays will cancel the lesson, in which case a full refund will be given. Refunds will not be given if there is appropriate terrain available to run the lesson, and cancellation fees (see below) will apply if a guest chooses to cancel.
Nozawa Holidays will not be held liable for any accidents or injuries during, before or after Ski or Board lessons, Photography shoots or Equipment Rental periods. The guest acknowledges there are inherent risks associated with snows sports activities and that they undertake all activities at their own risk.
In cases of injury or illness, a medical certificate must be provided from a medical practitioner to receive a refund.
Cancellations
Cancellation of any Nozawa Holidays reservation may be made via email to stay@nozawaholidays.com or by calling +81 (0)50 5532 6026 between 8:15am and 5pm.
Cancellations made within 72 hours will incur a 50% cancellation fee.
Cancellations made within 48 hours prior or " No Shows" will incur a 100% cancellation fee.
Gift Certificates
Buy Gift Certificate