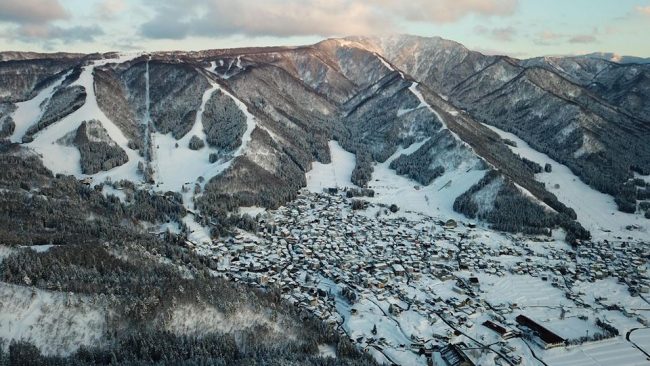 10 Facts Nozawa Onsen
Nozawa Onsen is a magical little town, steeped in history and tradition. Most of us come to Nozawa for it's perfect powder snow and traditional Japanese village vibe. But if you look a little closer, and stay a little longer, you'll discover that Nozawa has some fantastic little nooks and crannies to be explored, plus a healthy dose of mystery and intriguing local tales. Here we'll take you through 10 things you may not know about Nozawa Onsen:
1. You can drink natural spring water for free. You may know of Nozawa as an onsen town with plentiful hot springs to enjoy, but did you know there's also an abundance of cool spring water that is better than any bottled water you can get? There are two tucked away spots where the spring water comes out and you'll find these surrounded by mossy stones and a few cups that are free to use. One sits just below Nozawa Holidays' Mt Dock Gondola Cafe (about 20 metres downhill where the road splits into two) and the other on the South side of town next to the Hachiman shrine. These natural springs are great for a quick drink when you're walking around town and sometimes you'll see locals filling up huge bottles with the water to use in their office water coolers.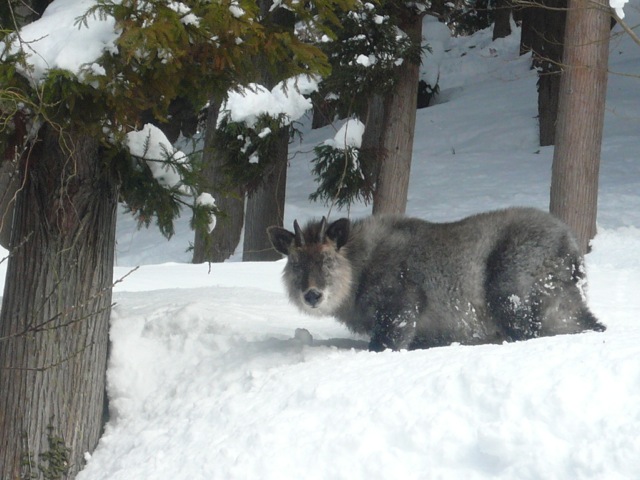 2. You get lucky by spotting a kamoshika. You may have heard about the local bear/goat/deer animal that roams Nozawa's hills. These beautiful grey creatures are known as kamoshika and they are notoriously elusive as they blend in with the trees, are silent and always solo. These secretive animals have been considered a natural monument of Japan since 1934, and as a special natural monument since 1955. But did you know it's said that sighting one gives you many years of good luck? It's definitely worth keeping your eyes open when you're in the gondola!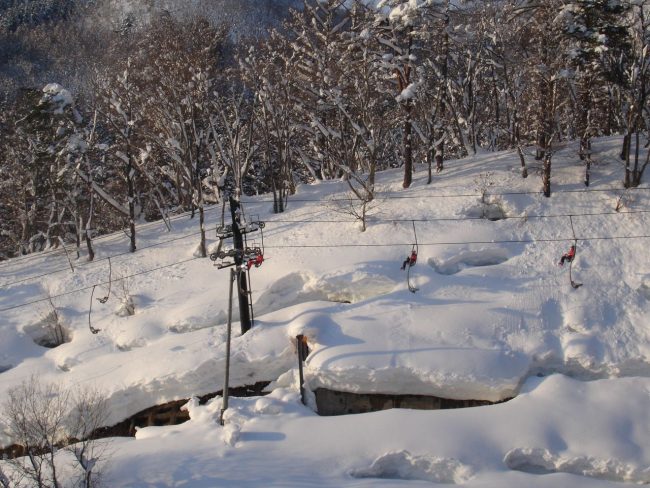 3. You can ride a secret chairlift for free. On the North side of the village, near Shin-Yu Onsen, is a little known chairlift (if you're having trouble finding it then use the Nozawa Onsen Village Map ). It's named the Shin-Yu Pair Lift and is a free lift that takes people up to the Hikage area. It's tiny and tucked away, and can be a little bit nerve wracking if you're not a fan of heights because it's only a two-seater and doesn't have a safety bar. Even if you're not going up to the Hikage area to ski the Shin-Yu Pair lift is a must-do activity for the beautiful views.
4. The story behind Kumanoteara-Yu onsen. The village's oldest onsen is Kumanoteara-Yu, situated towards the bottom of town near Akibtei Okonomiyaki restaurant. This is a lovely wooden onsen with a fantastic story behind it of how the village of Nozawa Onsen was discovered. The story goes that one day a hunter was tracking a bear through the forest. He had already shot the bear with an arrow and was following its path up the mountains. Finally he found the bear and it was sitting in a natural hot spring, healing itself. Thus Nozawa Onsen and its hot springs were discovered! By the way, did you know that 'kuma' means bear in Japanese?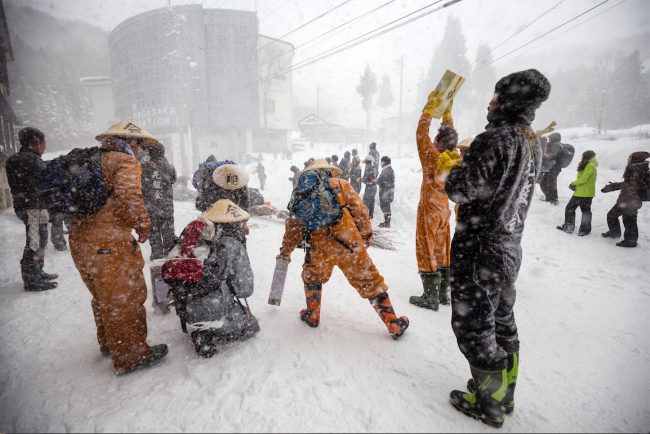 5. The fire festival isn't for just one night. Nozawa's Dosojin Matsuri, or fire festival, is one of the town's most well known events. Crowds flock to Nozawa on January 15 every year to see the wooden tower or shadan be set alight and burned to the ground in dramatic style. But did you know that the festivities go for three days? In fact there's a whole sacred process that begins with cutting down the Japanese birch tree the previous autumn. Then on January 13 the tree is dragged down through the Hikage ski area and village, with stops along the way and lots of free sake. On the 14th and 15th the shadan building commences. Finally, the festival culminates with the burning of the shadan on the night of the 15th.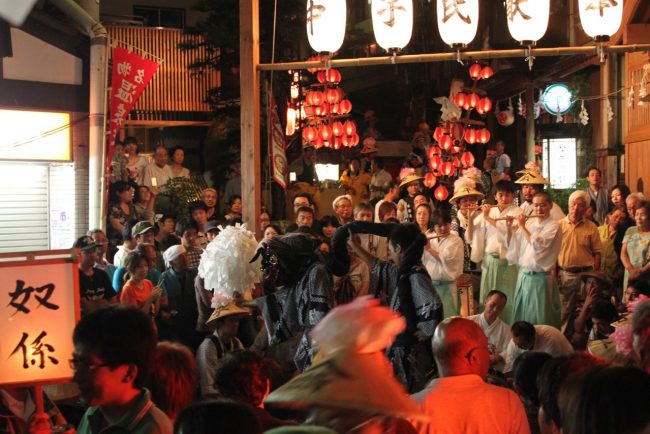 6. The fire festival isn't Nozawa's only festival. Certainly it is the town's most well known festival, but Nozawa is a traditional town that holds a number of spectacular celebrations throughout the year. One of the best to watch is the annual lantern festival on September 8th and 9th. The streets become lined with food and game vendors and all the locals dress up for the occasion. Then there is a parade of music and dance in the hopes of bringing good luck and a healthy rice harvest. The next day is also worth watching as the men carry a huge shrine through the village.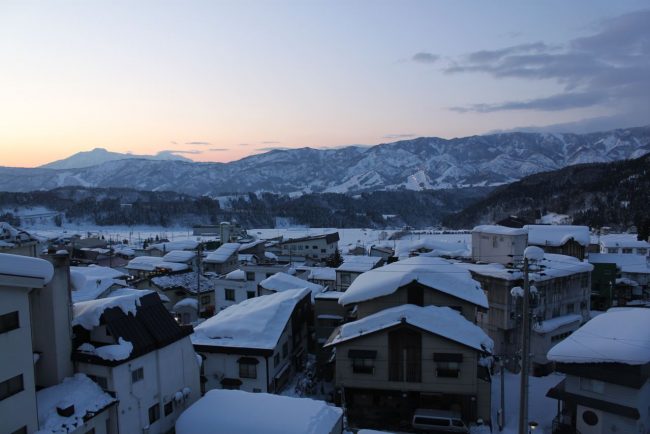 7. There's a hidden ski resort just down the road. Not many people know that just a few minutes' drive down the hill is Togari Onsen resort. This is a small resort with 7 lifts and 18 courses that has some great backcountry opportunities. It even has night skiing!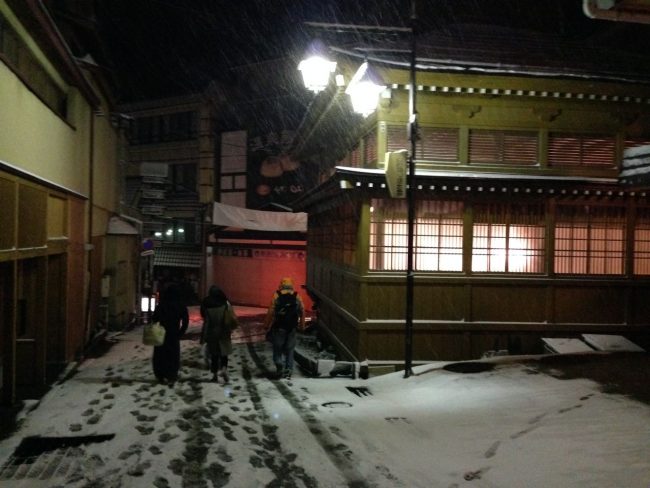 8. Every onsen has a different colour. Of course Nozawa is famous for its many free hot springs around the town. But did you know that each onsen's water come from the same source but somehow every onsen has its own unique colour and mineral qualities? For example, the water at Shin-Yu onsen is opaque and milky white while Kamitera has clear and green-tinged water.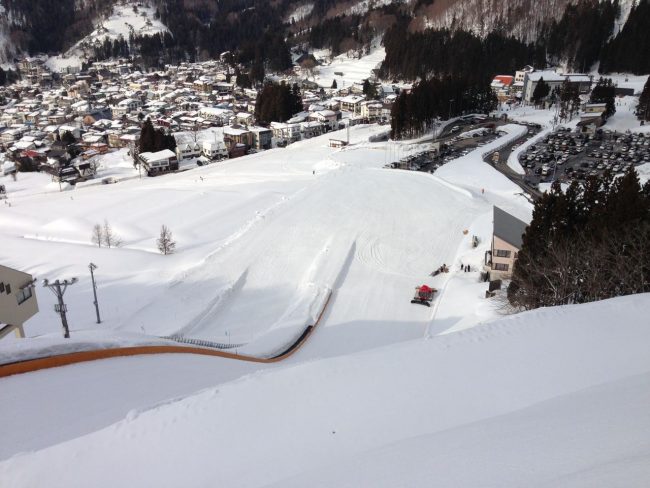 9. Those ski jumps weren't used in the Winter Olympics. You may have heard that Nozawa Onsen hosted an event during the 1998 Nagano Winter Olympic Games. You may have also noticed the big ski jumps near the Nagasaka area and put two and two together. This is a common assumption. But did you know that Nozawa never held ski jumping in the Winter Olympics? Instead, Nozawa Onsen was the location of the Olympic biathlon events!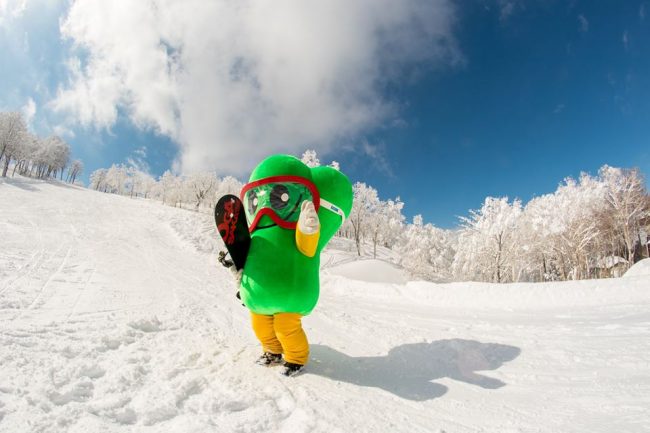 10. The Nozawa Onsen Resort mascot is a giant pickle. Have you ever noticed the giant green broccoli on Nozawa Onsen Resort's website, gondolas and lift tickets? That's Nasuki, the mascot of Nozawa! He's actually a special Nozawana pickle, which is a type of leafy vegetable that is farmed around Nozawa Onsen. It's a local delicacy and is frequently used in restaurants around town so make sure you try it.
If you'd like to come and discover some of these little secrets for yourself then be sure to book in early for a Nozawa Onsen Snow Holiday
This article was researched and written by the very talented Alex Parsons and Nozawa regular. Alex san arigatou