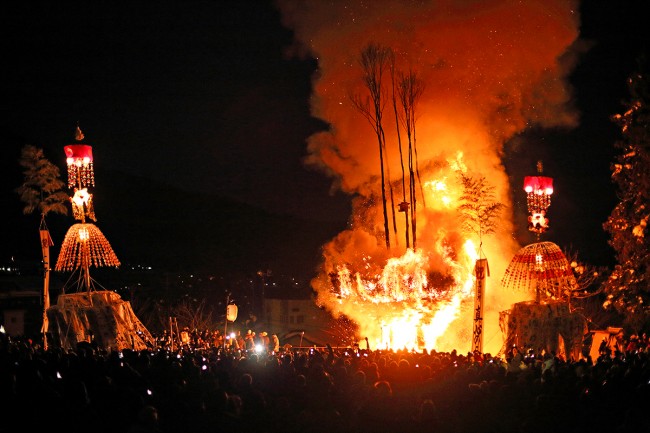 Base up top: 230 cm    Temp Top; -8 Degrees
Base at bottom; 125 cm
New Snow since close: 10 cm
Weather; Overcast
At the moment we have some overcast conditions and light snow falling in Nozawa Onsen. Since the close of lifts yesterday we have had 10cm of fresh fall (3cm fell the night prior). It will be nice skiing across the whole resort with the cool temps and light crowds. Off piste south and west facing slopes have a crust layer just below the fresh snow.
Clear skies meant perfect conditions for the fire festival the night before last. After a spectacular fireworks show the tower was attacked with burning branches for several hours before finally being set alight at about 10pm. The heat from the fire was quite intense and everyone had to move back from the flames. After the disojin had finished the whole town went into party mode and most people had a memorable (or lack there of) night out with a sore head yesterday to match.
According to the forecast we should see light snow showers continue for the rest of today. A significant fall is predicted to occur over Saturday night with 20-30cm possible. The long range forecast suggests further snowfalls will occur mid way through next week. Around 50cm is looking like it will collect during this time.