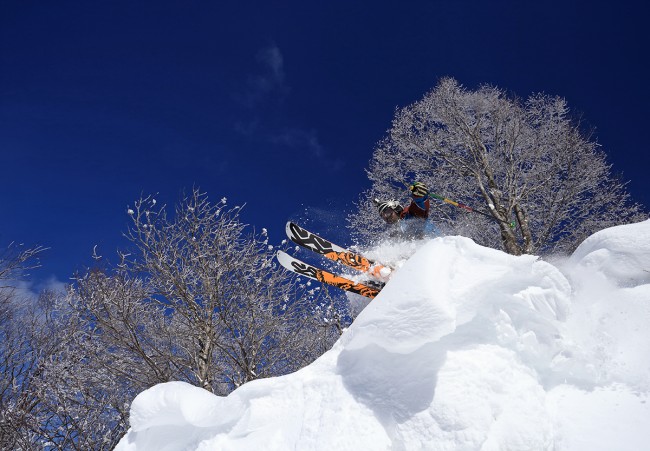 Base up top: 250 cm    Temp Top; -10 Degrees
Base at bottom; 130 cm
New Snow since close: 10 cm
Weather; Light snow
Its pretty much a carbon copy of yesterday in Nozawa Onsen, just with 10cm instead of 30cm of fresh snow. Very cold temperatures across the resort, -10C at the top, means the powder will be in excellent condition. Light snow is still falling and expected to continue on and off today.
Yesterday was outstanding with deep but not bottomless powder. This meant that many of the slighter gradients were skiable without getting stuck, great for those just starting out in the powder. It was crowded in the morning but by lunch time the crowds dispersed and lift lines were hard to find. Winds were lighter than expected which made the cold conditions more than tolerable.
With the fire festival tomorrow the village is extremely lively at the moment. Those who were in town yesterday would have seen locals dragging huge trees through the streets for use in the construction of the structure which will be attacked tomorrow night.
Looking at the current forecast we should see a beautiful bluebird day tomorrow in combination with temperatures equally as cold as today. Its sure the skiing will be very good indeed. The next set of snowfalls is expected thursday afternoon/night and at this point in time a solid dump is predicted for Saturday night into Sunday. Of course, this forecast is subject to revisions over the coming days.