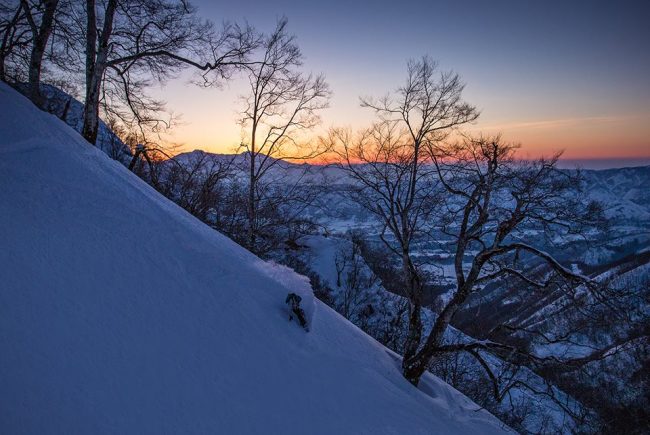 Here is a little shot to help cure your Mondayitis from Nozawa Onsen.
It is the first day of August, which means that only about another 18 Mondays and you could be in the mountains of Japan. Might be time to book now. The season generally starts around December 1st with Mother Nature's blessing. Depending on the season we have decent coverage by mid December. So cheer up and think of snowy thoughts this week. If you have not already booked it may be time so drop us an email to stay@nozawaholidays.com Or get on the site Nozawa Holidays
We look forward to hearing from you and having you up to stay.
Season Open and Close dates for Nozawa Onsen Japan – Book Now
Open date 1st of December
Closing Date 6th of May
( Subject to Mother Natures blessing on the snow front!)
Peak Times for Nozawa Onsen
Overseas Guests
December 25th to January 25th is peak with the middle of January around the Fire Festival being the busiest by far. February is also popular but finds more hard core riders in Town and less families as school holidays are finished. March is a surprise package with not many visitors and still some amazing conditions.
Japanese Guests
New Years Holiday from December 29th to January 3rd is a big Japanese Holiday and the town is packed with happy visitors from Tokyo and other areas of Japan. There is also a long weekend in January this year the 9th of January is a public holiday for the Coming of Age day and will bring lots of people back up. Then most weekends in February are busy with the weekend crowd coming up for their snow and Onsen fix. It is noticeably different to the week days where you will almost never have to line up for a lift.
When I first came to Nozawa Onsen in the early 1990's it was busy all the time been on week days with Japanese visitors from all over Japan. But numbers in 2012 were 70% down on 1992 so we now have a lot of infrastructure for not so many skiers and snowboarders especially on the weekdays. Even at peak times you can have the slopes to your selves and feel like it is a private resort.
Can check out more details on the conditions to expect each month here