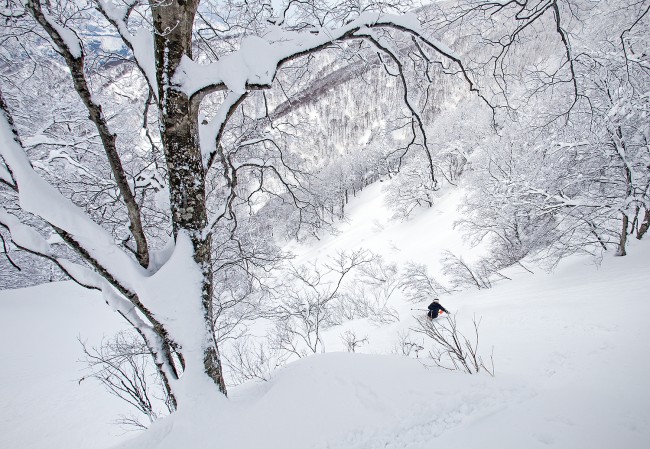 Base up top: 330 cm    Temp Top;  -8 Degrees
Base at bottom; 215 cm
New Snow since close: 50 cm
Weather; Heavy snow
Welcome to 2015 from Nozawa Onsen! Partying into the new year in style with festivities about the village including night skiing under fireworks on the Nagasaka slope and sake flowing strong into the night. There is sure to be a few sore heads this morning! Those who held back will be rewarded by feeling fresh and ready to tackle the 50cm of snow that fell overnight. The first day of 2015 is sure to be a good one in Nozawa Onsen with that deep dry powder Japan is world renowned for blanketed across the mountain, getting deeper by the hour as flakes continue to fall thick and fast, woohoo!! Time to get out there!
Yesterday was also a good one, better than expected given the relatively warm temperatures. Fresh snow remained untracked in the well hidden areas of the resort and the groomed runs held up well given the holiday crowds. Snow on the lower aspects of the resort became slushy during the afternoon however the upper slopes remained relatively dry and of great quality.
What a great forecast we have to kick off the year! Snow will continue to fall today in consistent quantities before potentially easing into tomorrow. Another moderate to strong front is suggested to pass over on Friday night before snow showers become isolated by midday Saturday. Sunday is forecast to be a spectacular bluebird with cold temperatures remaining. Best of all, winds are predicted to be less than moderate the entire time. Could this season get any better?