2023 Nozawa around the corner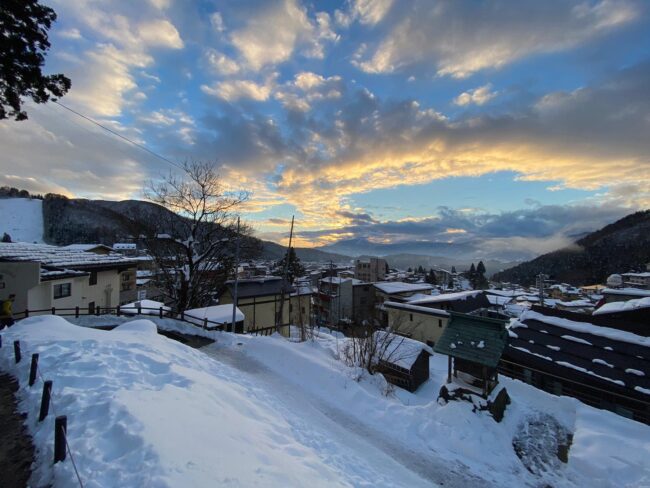 During yesterday's skiing and snowboarding session, the clouds lifted revealing gorgeous sunshine day. The usual three thermal layers, puffer and waterproof jacket shed for just a couple of layers under the shell. The views over Nozawa Onsen and the surrounding valley were magnificent.
Can you believe it, New Year's Eve is just three days away!
There are usually two main options for celebrating New Year's Eve in Nozawa. Either having some fun night skiing and enjoying fireworks on the Nagasaka Slope under the main gondola (weather dependent) or visiting the shrine and temple area by O-yu to reflect and send out your wishes for the New Year. Can read more here on New Years in Nozawa; https://www.nozawaholidays.com/news/new-years-celebrations-nozawa-onsen/
TODAY:
Temperature at the top; -2 degrees up on Yamabiko.
New snow since yesterday; 1cm
Base at the top; 95cm
Snow conditions; Powder on Yamabiko, groomers lower down.
Weather; Cloudy for most of the day with light snow showers building in the evening.
LIFTS IN OPERATION:
~ Nagasaka Gondola Lift – 8:30-15:30 (down line 16:00)
~ Hikage Gondola Lift – 8:30-15:30 (down line 16:00))
~ Yamabiko No. 2 Quad Lift – 8:40-15:40
~ Yamabiko Quad – 8:45-15:30
~ Skyline Double – 8:40-15:50
~ Uenotaira Quad – 8:40-15:40
~ Paradise Quad – 8:45-15:30
~ Hikage Quad – 8:30-16:30
~ Hikage Triple – 8:30-16:30
~ Nagasaka Triple – 8:30-16:30
~ Nagasaka gondola-link Double – 8:30-16:30
~ Yu Road – 8:00-16:40
RUNS OPEN;
~ Yamabiko Courses A, B, C and D and E, intermediate slopes
~ Uenotaira Slope, a beginner slope
~Kogenashi A and B course, intermediate slopes!
~ Paradise
~ Hikage Gelaande
~ Hikage Wall
~ Nagasaka-Link
~ Kumataka
~ Kitsune
~Bunabayashi
~ Schneider
~ Challenger course
~ Utopia A an B
~ Forest and Ushikubi course
~ Yunomine Slope B and Mizunashi Slope B
~ Isemiya
~ Nagasaka
~ Forest shortcut
PARTIALLY OPEN: Snow Park
More runs are scheduled to open today – please check nozawaski.com for the latest.
 SNOW FORECAST:
By tomorrow morning, we should see another 30cm of snow if the forecast holds. Friday is looking cloudy with some more light snow showers amongst sunshine. New Year's Eve is forecast to be clear and sunny – a perfect night for fireworks! The first week of 2023 should bring more snow! Check back tomorrow for the latest forecast.
Tag #nozawaonsenjapan to be featured on our stories during the day!