Base at top:  135 cm
Temp at Top; -10 Degrees
Base at Uenotaira  105 cm
New Snow since close: 3 cm       
Weather; Heavy snow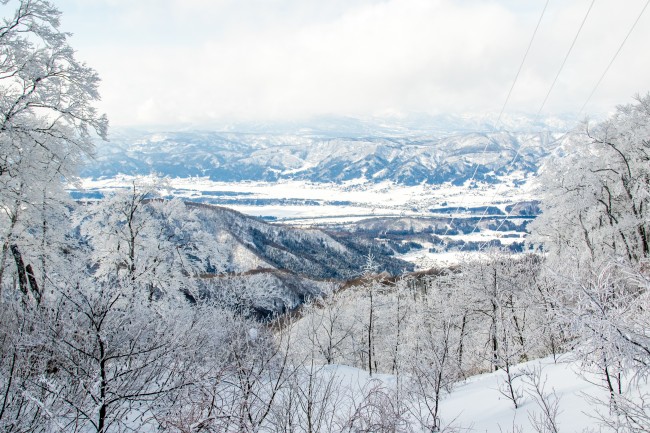 Yesterday we saw one of the best days out on the slopes this season. After receiving a dump of 35cm in time for the opening of the lifts, there was some great powder to be found. The sun started to make an appearance by about 10am and stayed out for the whole day. A few runs were opened, a favourite amongst all being Skyline.
Snow is falling heavily in Nozawa Onsen at the moment; It should continue throughout the day to keep the groomers refreshed. Conditions on piste will be fast and soft thanks to the great lot of snow yesterday and the cold temperatures. The mercury will be sitting at around -7 halfway up the mountain and -10 up the top. Winds are going to be mild to moderate so the windchill may be a factor.
Looking ahead, it looks like another system is beginning to form and move across towards Nozawa Onsen with some more good dumps for the weekend. Temperatures should drop Saturday afternoon before snow starts to dump right down to the village. The freezing level will stay at 0m so heavy snow will be falling across the whole mountain through Sunday.
Yesterday's powder day has got us excited for the next one. Let's hope the skies deliver!
Courses planned to be open:
– Yamabiko A course
– Yamabiko B course
– Yamabiko C course
– Yamabiko D course
– Yamabiko E course
– Paradise
– Kokenashi
– Uenotaira
– Bunabayashi
– Yunomine A
– Yunomine B
– Rinkan
– Mukairin Contact
– Karasawa Contact
– Nagasaka Contact
– Kaminotaira
Kitsun
Antelope
Raccoon
–   Fox course
Isemiya
mizunashi A
mizunashi B
Schneider
Utopia
Utopia 2
Challenge
Ushikubi
Nagasaka slope
Karasawa
Mukairin
skyline