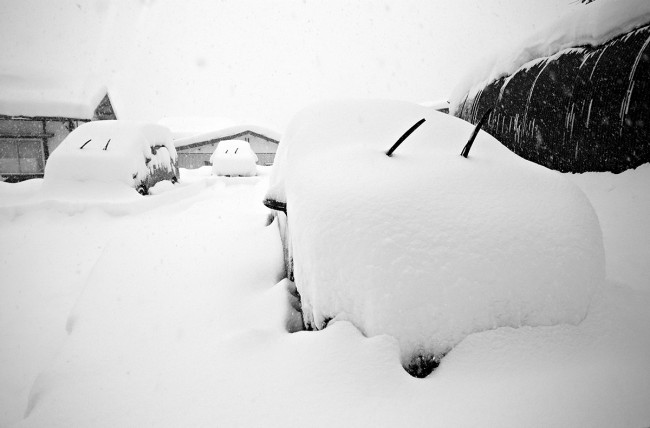 Base up top: 290 cm    Temp Top; -10 Degrees Celcius
Base at bottom; 170 cm
New Snow since close: 3 cm
Weather; Clear
With only some clouds hovering over the mountains now it is clear that it is going to be a spectacular day! The snow stopped falling early last night after what was an intense 24 hours. During that time a grand total of 88cm was recorded as having fallen at Yamabiko and well over half a meter in the village. Off piste and the steeper blacks will be where its at today. Heading to steeper areas is a necessity to avoid getting stuck it the deep pow. For beginners the groomed runs will be nice and soft, perfect for comfortable trips to the ground.
Yesterday was by far the deepest days we had so far this season and possibly deeper than any day last season. Yamabiko was a no go, it was simply not steep enough for the chest deep snow. The blacks off skyline were awesome once they opened as were runs in the challenge area. Snow showers eased into the afternoon providing more manageable conditions on the high mountain and the crowds were very light for a Sunday. There were also reports of solid avalanches in the backcountry, more than big enough to kill, so be very careful today.
Looking at the forecast ahead we should expect snow showers to return this afternoon, increasing in intensity overnight. The forecast totals on an hour by hour basis for the next three days is less than the past system, but the extended duration should see accumulation of over half a meter in the next three days. Moderate to heavy snow are forecast for tomorrow, before easing to light to moderate on Wednesday. Clear skies should return by late Thursday.