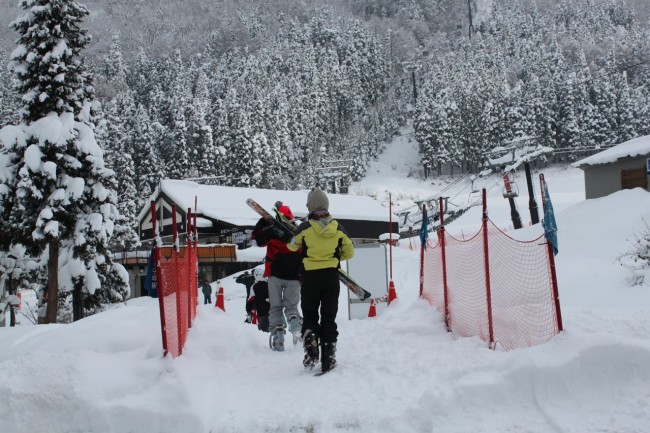 Base up top: 175 cm                  Temperature; -4 Degrees
Base at bottom; 115 cm
New Snow: 15cm
Sounding a bit like a broken record but another amazing start to the day here in Nozawa Onsen have had about 15cm up top since the close of lifts yesterday and for the first time in a few days we are being blessed with some sunshine.
Will probably be short lived so enjoy the sun and great views while you can as looks like a little bit of snow tonight then we are going to get covered again with heavy falls expected over the weekend, forecasts showing we could be in for over 100cm! So time to clear the decks of snow a bit today as most people are doing with the locals up the roofs already.
Anyone coming up over the weekend is advised to be prepared, if driving up suggest you carry chains.
Yesterday was a great day on the mountain with some bottomless powder runs and stories of epic conditions. The banter continued into the early hours this morning at the Stay Bar which is now open for the season and serving up some fine bourbon and sweet tunes to the happy powder hounds.