Add Kanazawa to Your Nozawa Visit
If you're looking for a side trip during your time in Japan, Kanazawa is a fantastic choice! You can easily add Kanazawa to your Nozawa visit, either before or after your time in Nozawa. Kanazawa is the capital of Ishikawa prefecture and located two hours from Nozawa on the west coast of Japan. It is a culturally rich city known for its well preserved historical districts, fresh food markets, traditional art and crafts, castles, stunning gardens and more.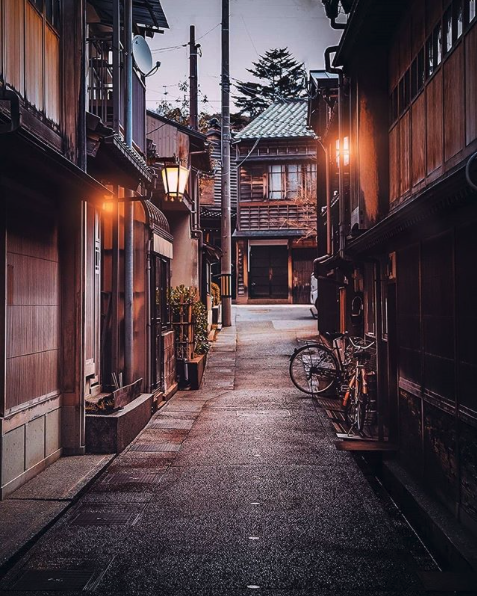 History, Crafts and Significance in Kanazawa
Kanazawa was relatively spared from the devastation of World War II. As a result many of the old parts of town have been preserved. Must-visits are the Nagamachi Samurai District and the Chaya entertainment area. The latter was famous for its Geisha who would dance and play music for guests. There are entire streets that look much the same as they would have hundreds of years ago. These are great for photos! Kanazawa is often called little Kyoto because of its well-preserved Edo-era districts. Except it doesn't attract the same crowds as Kyoto does!
During medieval Japan the region was extremely wealthy and focused a lot of its attention on the arts. Skilled artisans still remain in Kanazawa, having had traditional craft skills passed down through generations. You'll find fine examples of lacquer, gold leaf, traditional washi paper, Kutani-ware painted porcelain, silk dyeing and sweet making. There are often public classes and lessons dedicated to learning these crafts if you're so inclined.
Castles, Gardens and Other Attractions
Two of Kanazawa's most well known attractions are the Kenroku-en gardens and Kanazawa Castle, that are located together. The castle was built in 1583 and while parts of it burned down, it has been rebuilt over time.  It's a beautiful white castle surrounded by moats and canals, and of course the famous Kenroku-en gardens. The castle is open every day of the year and only costs a few dollars to explore.
The Kenroku-en garden is regularly rated as one of the most beautiful gardens in all of Japan. The gardens were founded during the Edo period and extended over generations by the feudal lords in the area. It is great for strolling around and child-friendly too. There's lots to see at any time of the year, like ponds, streams, stone gardens, viewpoints and tea houses. Although autumn and spring are arguably the best times to visit.
More modern attractions in Kanazawa include the 21st Century Museum of Contemporary Art. This museum bolsters Kanazawa's great reputation as a city of culture and art.
The food lovers among us will enjoy the Omicho Markets. These have been Kanazawa's largest fresh food market since the Edo period. There are around 200 stalls spread out through the streets. It's a busy and colourful affair – especially in the morning when the locals tend to do their shopping. The markets specialise in fresh seafood but there's plenty of other treats to buy.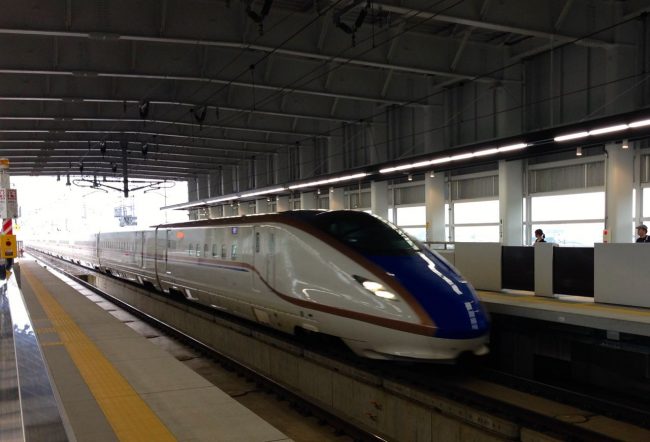 Add Kanazawa to Your Nozawa Visit – Getting There
Thanks to Japan's speedy Shinkansen (bullet trains), you can get to Kanazawa from Nozawa in under 2 hours. Use this website to check times for buses and trains.
Take the bus down to Iiyama station (approximately 30 minutes) and then hop on the Shinkansen for 76 minutes. It's often a good idea to book the Shinkansen in advance during peak times in December and January. Ask one of our friendly staff at your Nozawa Holidays accomodation and we can help you out!
This trip takes just under 2 hours and will bring you straight to Kanazawa station. Kanazawa station is worth a visit alone. IT has a beautiful glass dome and the entrance has a massive wooden gate. The gate is meant to resemble a traditional Japanese drum (tsuzumi) used in Noh theatre.
Kanazawa is a great city to wander through. It can round out your trip to Japan with cultural activities for the whole family.
Here's a stunning video showing off Kanazawa's highlights: