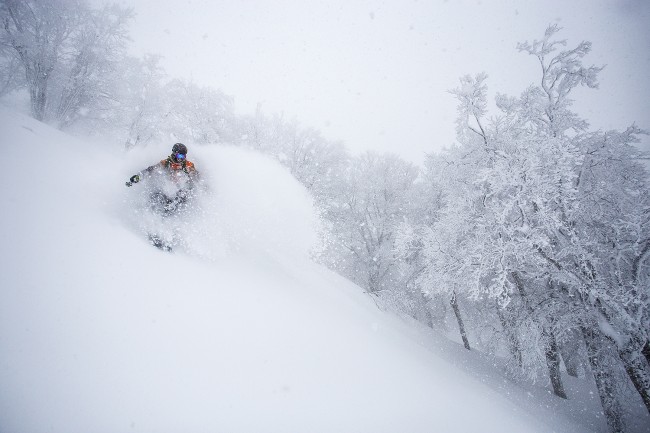 Base up top: 440 cm    Temp Top; -7 Degrees
Base at bottom; 220 cm
New Snow since close: 5 cm
Weather; Clear
We have awoken to a staggeringly beautiful morning. A brilliant warm alpenglow is shinning on the surrounding peaks while a clear blue sky looks down from above. With deep fresh powder and cold temperatures you could be forgiven for thinking it is still in mid winter, but of course it is late March. We are very lucky to have such conditions, especially considering how much of the northern hemisphere is suffering through a lacklustre snow season. Japan always delivers and today will be as good as it gets!
Yesterday we had heavy snow fall most of the day adding around a further 20cm during the daylight hours. As a result conditions were remarkably excellent. A long line of powder hounds waited patiently at first gondola however everyone dispersed well and fresh tracks were found all day long. An awesome day all round.
According to the forecast we are in for a run of spring conditions with warming temperatures from tomorrow and sunshine lasting until early next week at least. There is potential for some rain mid next week and it remains to be seen, even in the long range forecast, when the next dump of powder will occur.