Base at top: 170 cm
Temp at Top: 6 Degrees
Base at Uenotaira: 130 cm
New Snow since close: 0 cm
Weather: cloudy, warmer temperatures and some rain likely to fall
Going big in the terrain park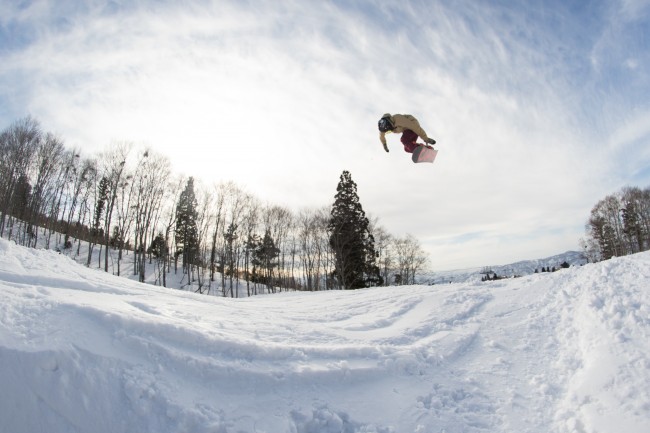 What a fantastic day it was yesterday. It was warm and sunny, and the winds were mild almost all day long. People were out in t shirts, jumpers, anime costumes, Though we're yet to spot someone in shorts and a t-shirt! Maybe in Spring. One of the Kandahar courses was open yesterday and will be again today, a popular black run amongst our guests with stunning views over the village. Unfortunately with warm and sunny days there is the payoff of the snowpack becoming a bit slushy, though that didn't stop anyone from enjoying the mountain.
Today's forecast isn't looking so bright, with some rain on the radar to fall during the day as temperatures hover at around 7° C. Things are looking like they will continue this way through until early Sunday before temperatures plummet back to -12° C and the rain turns to snow. There should be fairly consistent snowfalls for the first half of next week, with moderate amounts accumulating over a few days.
If you aren't too keen to head out riding today, there's plenty to do around the village. A few suggestions include:
– Going for an Onsen Crawl; you can collect a stamp book from the post office and upon visiting them all you will receive your own onsen towel.
– There is also the Ski Museum located in the village with memorabilia and history of the skiing culture in Japan.
Matsuba Onsen