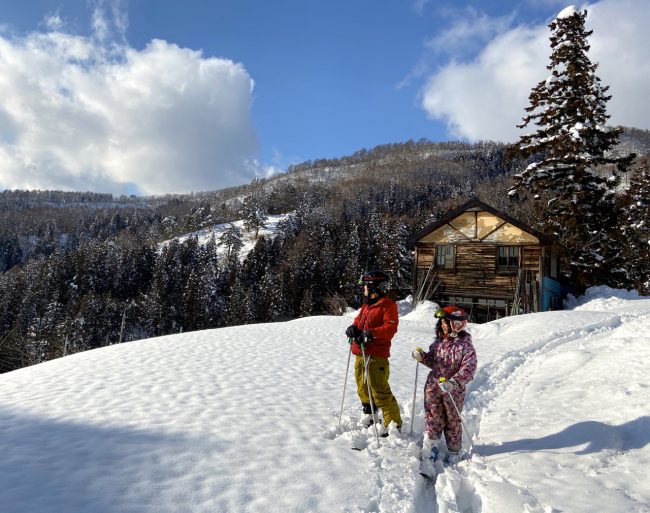 Best Day Season Nozawa
Temperature up top: -4 degrees
New snow since close: 0 cm
Base at top: 270 cm

Snow conditions: Powder in the shade, spring conditions later
Weather: Sun, warming
As we've expected the persistent snowfalls have cleared from Nozawa Onsen gradually contracting to the peaks yesterday afternoon. Right now it is sunny across the mountain and while it's cool now the temperature is expected to climb much higher during the day. By this afternoon spring conditions are forecast across the entire mountain, except Yamabiko. Therefore the best skiing will be had early off piste with a transition to groomers later in the day offering the most fun. Perhaps the Yamabiko natural halfpipes will be on as well.
Yesterday was the day of the season (so far). Wow it doesn't really get much better than that! Deep powder in the morning but not too deep. The whole mountain was going off on and off piste. The snow continued during the morning before clearing off the lower mountain by midday. As the visibility increased so did the level of stoke. I did notice a lot of inexperienced (with inflated egos) in the off piste zones. Again, be careful out there. Always check where your going. Have the skills and equipment necessary and don't ride alone. And to those two snowboarders cutting the gondola line each morning for the last week. Leave now, your disrespect does not belong here.
Looking at the forecast we've got the dirty word coming. Rain. For the next couple of days or so. It'll probably help the mountain. Pushing down the bushes as the snow slides down the slopes. Following this, a return to proper snow early next week with the decent run of cold temps and snow.
I hope you've enjoyed reading these reports over the last 10 days. Today's will mark my final for the season. So see you in 2021 Nozawa Onsen! The best mountain in the world with the best community spirit.