Cheap Ski Holiday Japan
Japan is quickly becoming a terrific country to visit all year round. I was reading a Lonely Planet guide from the 80s and it said something like Japan has snow but not really worth going for the skiing. Haven't things changed! Japan is now firmly on the map as a World Class Ski Destination.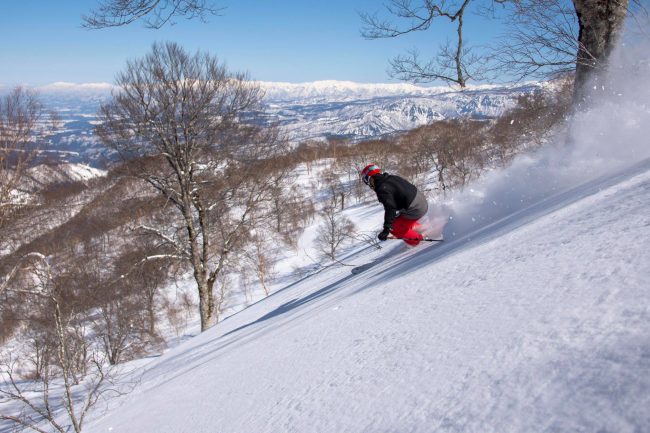 When I first cam to Nozawa 28 Years ago there were no overseas guests visiting this little town. I was one of the only non Japanese skiers on the mountain for about 15 years. Fast forward to now and overseas skiers make up over 25% of the total ski population in Nozawa Onsen.
Go against the tide come in the shoulder season – Cheap Ski Holiday Japan
Most guests come in January and February but especially January when there are 3 times the number of people as any other time of the season. Traditionally we usually get our biggest snow falls in January and sometimes believe it or not there can be too much snow for people to handle! This allure combined with School Holidays and the famous Fire Festival on January  15th. Dont get me wrong it is a great time to be in Nozawa but it is. very busy, hard to get in to restaurants, hard to get accommodation and heave forbid we have lift lines!
March is Magic in Nozawa Onsen – Cheap Ski Holiday Japan
We have been preaching this for a few years now and as you can see from the photos it is a great time to be in Nozawa, but for some reason it has fallen on deaf ears. Mid March here and a truly spectacular day today but no one around literally. Restaurants are empty no lift lines and most accommodations you can hear a pin drop!
Doing Deals in Nozawa – Cheap Ski Holiday Japan
We have all these empty rooms so more than happy to do some deals
How About The Discounts:
15% off all bookings before December 20 or after March 15
20% off all bookings after April 7
Here is an idea of a package for 2 Adults and 2 Children from March 15th until the end of the season on May 6th
Spring Japan Family Ski Holiday
7 Nights Stay based on Japanese Style Tatami Room with Share Bathroom
Healthy Breakfast Included Daily
6 Days Lift Passes
Use of all the Village Hot springs
All from just 67,650 yen per person Adults (Approximately $AUD 795 at current rates) x 2
Children from just 32,825 Yen (Approximately $AUD 385 at current rates) x 2
Total = 200,950 Yen or Approximately $2360 at current rates
Other great deals
March Kids ski for 1300 Yen a day for Lift Passes
April Kids rent free with a paying Adult at Nozawa Central Rentals
More deals here March is Magic and April is Awesome in Nozawa
Check it out or hit us up for a deal can email stay@nozawaholidays.com