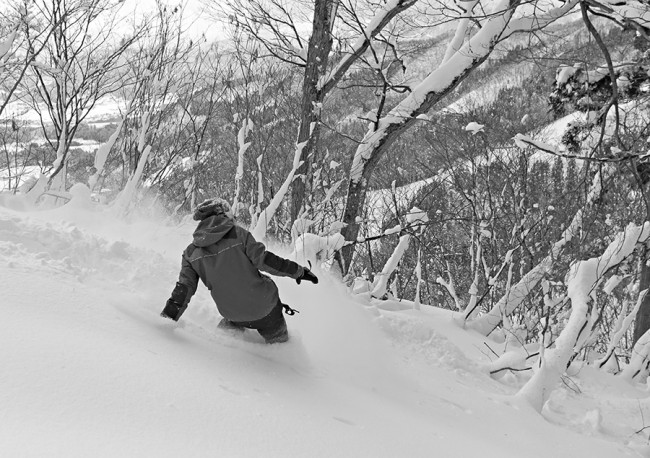 Base up top: 175 cm    Temp Top; -7 Degrees
Base at bottom; 60 cm
New Snow since close: 0 cm
Weather; Light snow
We woke to a partly cloudy day in Nozawa Onsen this morning. Although shortly after breakfast the mist and clouds rolled in and we now have some light snow falling.
Early on the pistes should be firm and fast, softening with the fresh snow falling. The upper trees will be nicely topped up by this afternoon, however more snow is required to fill in most of the lower trees. Winds at the summit are moderate to strong.
The resort and its lodges are beginning to fill up and we expect a busy period between Christmas and New Years. That being said, the influx should disperse well across the resort areas with all but Kandahar Racecourse open.
Yesterday was a nice day on the slopes. Light snow fell briefly during the morning before the clouds parted and gave way to patches of brilliant sunshine. With light crowds, the groomed runs stayed smooth all day and there were still patches on unridden powder amongst the elusive open trees.
Looking at the forecast ahead we expect like snow showers to continue for the remainder of today before clearing later tonight. Christmas day should be perfect bluebird with light winds. The snow should once again set in on Boxing day night and continue until around the 28th. We expect a moderate amount to fall out of this system.