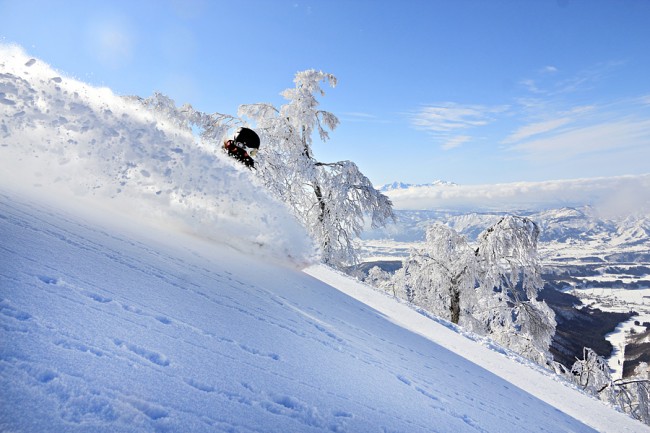 Base up top: 270cm Temp Top; -7 Degrees
Base at bottom: 150cm
New Snow since close: 0cm
We have a classic clear winter's day here in Nozawa Onsen. Cold temperatures across the resort, plentiful Japan powder, high winds aloft and perfectly groomed corduroy. Today will be a very good day for skiing and boarding.
There is still plenty of light dry powder on offer after yesterday. Although it hasn't snowed overnight, strong winds in the higher reaches of the resort have blown fresh snow to cover most tracks, especially in the gullies. There are also a few windblown natural features up high to slash or jump.
Yesterday was an excellent day on the mountain. Light snow intensified and by mid morning it was dumping classic Japanese style thick flakes. The riding was good early but improved even further thanks to the persistent flakes. By about 3pm a clearing trend set in and snowfalls gradually eased off becoming clear by the evening. Like today, crowds on the mountain were very small.
The forecast for the next week looks good. We expect clear weather for most of the morning before some high cloud marches across the sky during the afternoon. Snow showers are a looking likely overnight and tomorrow we should see snow and strong winds continue. On Saturday there should still be a few snow showers about, but also the possibility on some sun. Heavy snowfalls are a distinct possibility on Sunday evening and Monday at this stage.