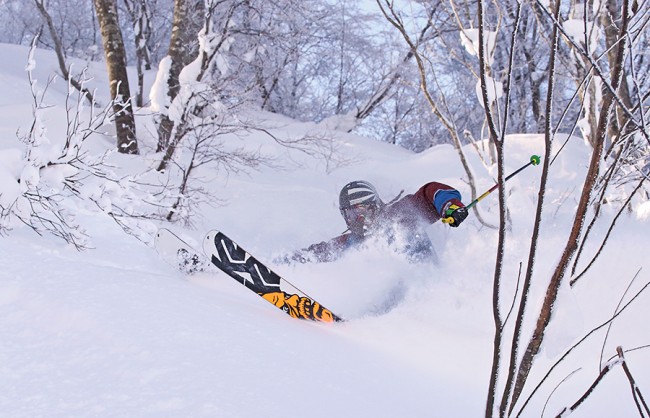 Base up top: 200 cm    Temp Top; -4 Degrees
Base at bottom; 85 cm
New Snow since close: 1 cm
Weather; Light snow
This morning in Nozawa we have some light snow falling across the resort. Although quite wet at the moment, temperatures are set to drop to around sea level seeing an improvement in the snow quality later in the afternoon.
Visibility is limited on the top half of the mountain and winds are gusting moderate at the summit. Best skiing today will be tree lined groomers in the morning transitioning to the upper trees as snow accumulates during the afternoon.
Yesterday was an excellent day on the hill, especially in the morning where cold temperatures and blue sky persisted. Combined with the deep powder from recent falls there was some outstanding off piste runs on offer. During the afternoon temperatures and sun created very heavy snow below 1000m, but up high the quality was still good.
Holiday crowds meant the were big lines in parts although thankfully these crowds will disperse after the weekend, as the Japanese holidays have officially finished.
Looking at the forecast ahead, light snow should continue today before clearing tomorrow. Monday should see further flurries before another solid dump expected for Thursday next week. Although this is subject to revisions as the date draws closer.