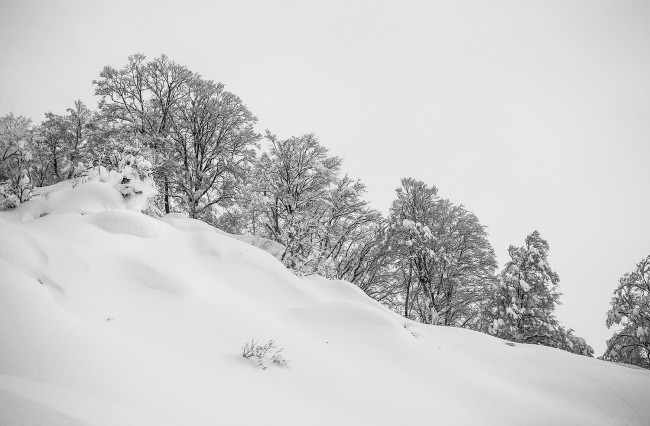 Base up top: 360 cm    Temp Top; -6 Degrees
Base at bottom; 220 cm
New Snow since close: 0 cm
Weather; Clear
Today is the day that we all expected yesterday. A clear full blue sky in combination with the occasional streaky high and astoundingly photogenic cirrus cloud. The views from the top this morning had to be seen to be believed with every mountain in the surrounding 100km revealed in startling detail. Chutes, spines and open powder fields of the soaring Japanese Alps that would take days to reach were just in grasp for the pleasure of mind skiing. Oh, and the skiing was pretty good too.
Stubborn clouds remain most of the day yesterday cloaking the peak of Nozawa Onsen in a hazy grey fog. Nevertheless there was superb skiing and boarding both in the trees and on the many smooth groomers meandering downhill. Who could argue with 30cm of fresh pow right? Those in the village would have bore witness to locals hauling a huge log through town with the sake flowing strong. This will be used as the centrepiece in the fire festival structure, due to kick off tomorrow night. Topping off the day was a minute of the most golden sunset light so far this season as the sun passed between the clouds and surrounding ranges.
According to the forecast clear conditions are set to remain until tonight, where by we may see the occasional isolated snow shower which is looking likely to increase into Thursday. For the fire festival tomorrow night we should expect light to moderate snow showers down to 500m before another, colder bout during Saturday. Due to the variability in the current forecast, confidence is low in these current predictions.