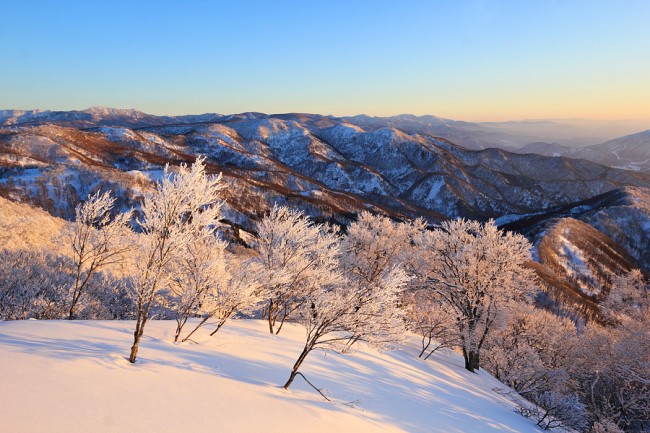 Base up top: 330cm        Temp Top; +2 Degrees
Base at bottom: 155cm
New Snow since close: 0cm
It's a relatively balmy overcast morning here in Nozawa Onsen with positive temperatures across the mountain. Slushy spring snow conditions will prevail with the best riding to be had on the upper slopes, especially this afternoon.
At the moment we have some heavy, high cirrus cloud passing over Nozawa Onsen accompanied by moderate winds. This is usually an indication of a impending front which is what we expect today. There may be some prefrontal rain this afternoon before a very cold North Westerly airstream establishes itself over Honshu some time tonight. Front this we expect a decent dump of fresh powder.
Yesterday was an unbelievable day in terms of weather conditions. While the snow was of excellent quality and remained dry on the upper slopes, it was the awesome visibility and views that stole the show. Huge mountain peaks were clearly visible, many of them over 100km away! Even Sado Island, way out in the Sea of Japan was easily spotted. The morning remained totally cloudless and the crowds were very light indeed. Let's hope we have some more spring days like yesterday.
Looking at the forecast ahead we expect snow showers to continue tomorrow from the aforementioned frontal system. From Friday to Sunday we expect clear weather, light winds and a stable freezing level of around 1000-1400 meters. Looks like a nice run of spring weather ahead.