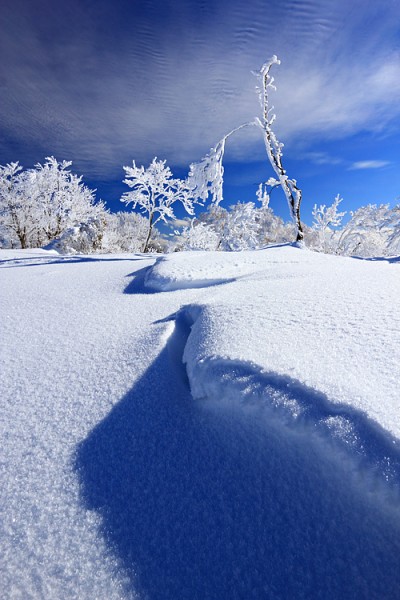 Base up top: 300cm        Temp Top; -12 Degrees
Base at bottom: 160cm
New Snow since close: 5cm
Weather; Snow
It's always good to wake to the sound of snow sliding off the roof and the machines clearing the road in the morning. This was the case in Nozawa Onsen earlier. It's currently dumping consistent thick flakes and really looks to have set in. Finally this long awaited system has begun to deliver which is good as the lack of substantial snowfalls yesterday was starting to make my forecasting look bad!
Today is Australia Day and there is a real party mood in the lodges this morning. With the good snow on offer, it should be a good day for all in Nozawa.
Yesterday looked promising at day break with a heavy snow shower passing through, delivering about 10cm to the resort. However after that the sky cleared and it remained partly cloudy for the rest of the day.
It was still a fun day on the mountain with small crowds. Kandahar remained undiscovered during the day and fresh tracks were still on offer even in the afternoon. Up high in the trees around Yamabiko was very fun thanks to the morning snowfalls. Some of the groomed runs became very icy in the afternoon and made it a real challenge to hold an edge.
The forecast looks good for snow to continue for the rest of the day becoming heavier later tonight. Following that snow showers should persist tomorrow, Monday and maybe Tuesday before clearing to sunny skies.