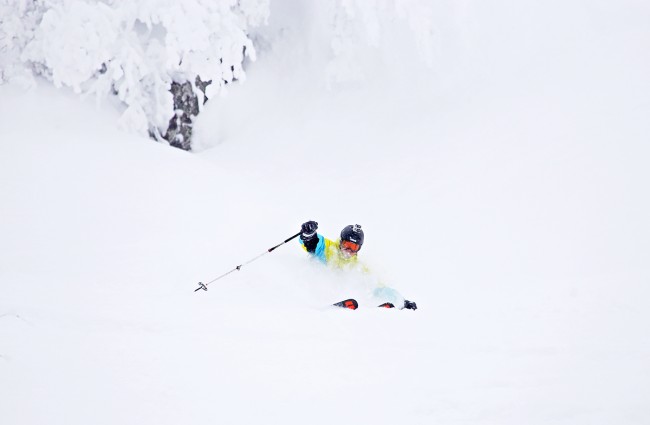 Base up top: 290 cm    Temp Top; -6 Degrees
Base at bottom; 140 cm
New Snow since close: 20-25 cm
Weather; Heavy snow
Heavy flakes are falling in the village of Nozawa Onsen this morning. It was predicted yesterday that today would produce the biggest dump of snow in 24 hours that we have seen in two years. Overnight the forecast has backed off on precipitation rates ever so slightly, but we are still expecting probably the biggest dump so far this season over the next 24 hours.
Temperatures are warmer than normal for snowfalls of this magnitude in Japan, with a freezing level of around 400m (normal is freezing level below sea level), and so the snow will be heavier than what is usual. But one thing is sure, the powder will be deep, very deep. It is recommended not to venture out into the backcountry even with avalanche equipment for the next 24 hours at least
For skiing and boarding this morning, hit up the Yamabiko trees for some fun sliding action. Later in the day this areas may become too deep to ride and maintain speed. When this happens, head to the skyline blacks or the challenge area for your fix of powder. Extra waterproofed clothing is recommended for today before the freezing level drops later tonight.
For those moving from Tokyo to the resort and back, be aware that as of earlier this morning trains are not running (including the bullet train) and many of the roads are shut due to heavy snowfalls across all of Japan. Hopefully they will re-open soon.
Yesterday was better than expected. Light snowfalls continued for most of the day, increasing later in the afternoon. Some unridden top to bottom powder was found in the less exposed areas of the resort. More frequented areas such as the Yamabiko trees were mostly tracked but were still fun. Groomed runs were soft and forgiving as was the park but became a little slow with the snowfalls during the day.
According to the weather models, snowfalls should hit there peak intensity overnight tonight. The air is heavy with anticipation as to exactly how much will fall but at least half a meter overnight on top of what falls today is likely. Tomorrow snowfalls should ease to light snow showers, contracting to isolated falls. later in the day. On Monday another front will move over the region delivering light to moderate snow before clearing again for Tuesday. At this time another strong system is predicted for Wednesday. There is sure to be a lot of snow falling in the next week ahead.