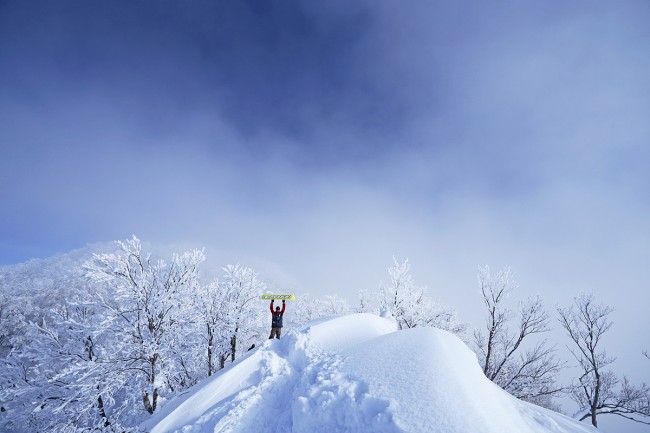 Base up top: 275 cm    Temp Top; -9 Degrees
Base at bottom; 140 cm
New Snow since close: 3-5 cm
Weather; Partly cloudy
It looks like today will clear faster than expected. We currently have some puffy cumulus clouds rolling over the hills spaced with crystal clear blue skies. Temperatures are cold and will combine well with the fresh snow that we received overnight. Total falls since last lifts yesterday include 3cm at Yamabiko, 5cm mid mountain and a dusting in the village. It was windy up top overnight so there will be sure to be stashes much deeper than the indicated amounts. Head for sheltered gullies and trees for maximum powder enjoyment.
Yesterday was a day with some interesting weather conditions. The morning started off fine and sunny with nice snow conditions. However as the day progressed snow on the south facing slopes turned into wet crud. North facing off piste slopes retained moderately heavy powder in the shade. Overall the best runs were had at the Yamabiko trees and then the groomed runs, which were smooth and fast.
Later in the afternoon some ominous storm clouds moved in from the south west and the winds intensified. It was interesting skiing in such conditions, like being at the beach in summer when a storm hits. Later in the evening we experienced a very brief period of rain before it quickly turned to snow. Good to say there was much less rain then expected.
Its a real mixed bag when the forecast of the week ahead is examined. The freezing level is expected to go up and down like a yoyo. Cold temperatures are set to remain until later this afternoon, when temperatures will increase overnight quite dramatically. Tomorrow looks to be warm  and overcast with prefrontal moisture moving up from the south. An intense but short lived front is due Thursday night/Friday morning. Following that there is another warm day expected Sunday before further snowfalls on Sunday.