Could this be a December remember Nozawa with early snow expected.
This photo was taken December 7th 2 seasons ago after a 70cm dump overnight! We were expecting 20cm.
Just a little update from Nozawa on the snow expected. Looks like the temps will plummet tonight and freezing temps set to hit the lowest so far this season going down to 0 degrees in the village.
We are all safe and sound too by the way thanks for anyone asking.
Good snow falls expected over the next few days then looking at the 9 Day Forecast plenty of red snow marks ahead right into next week with a big dump next Monday as well. Anyway the charts can change a lot between now and then but heading in the right direction and staying cold, which we always like.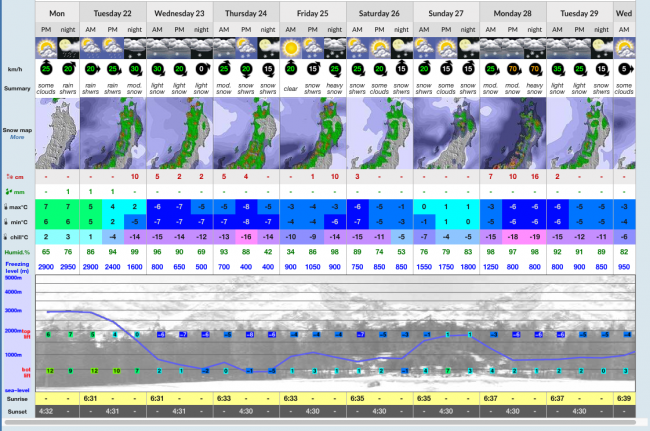 Things can change very quickly just the season before last we received early snow about 3 meters of snow in 4 days this shot below we got 70cm overnights on December 7th! So if thinking of coming up early December it may well be worth it and good chance you could get a nice ski in!
December Discounts for Nozawa Onsen – Early Snow
We are doing 15% off all accommodation before December 17th and lift passes are also discounted at that time
Adults 3400 Yen a day
Kids just 1700 Yen a day
Here is an idea of a package for up to December 17th staying at Villa Nozawa one of the most popular lodges in the village com cup and enjoy the early snow falls!
December to Remember Nozawa Onsen Special
7 Nights Stay based on Japanese Style Tatami Room with Share Bathroom
Healthy Breakfast Included Daily
6 Days Lift Passes
Use of all the Village Hot springs
All just 65,000 yen per person Adults (Approximately $AUD 839 at current rates)
Kids same room half price just 32,500 Yen (Approximately $AUD 420 at current rates)
If keen to come up soon and catch some early turns just fill out an enquiry here Quote Nozawa Onsen Ski Holiday