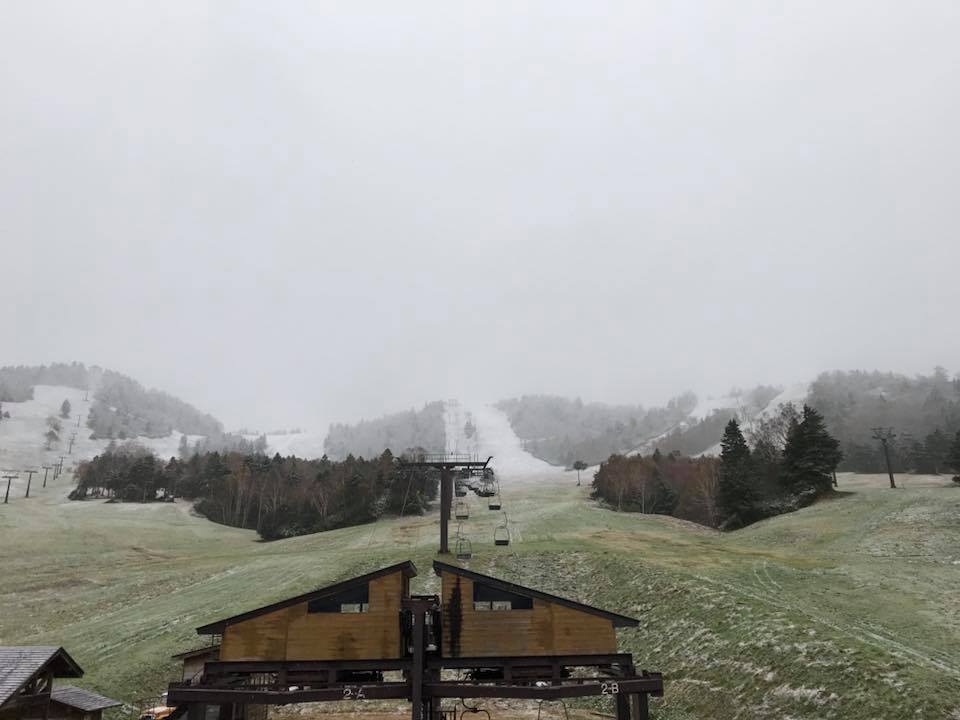 The snow is creeping closer to Nozawa Onsen!
First Early Snow Near Nozawa
Snow was recorded at nearby Kumanoyu Ski Resort this morning! Yamabiko at the top of Nozawa was a very chilly 3 degrees this morning too so looks like we got hit with a cold snap.
Kumanoyu Ski Resort is one of the first resorts you come to in Shiga Kogen and only about 35km from Nozawa as the crow flies. The very top elevation is 1950m above sea level and that is where the light snow has fallen last night. Just a beginning and is sure to melt off quickly but for mid October it is beautiful to see!
Photo of this morning and what Kumanoyu can look like in Winter! Also a map showing how close it is to Nozawa Onsen. Photos by Kumanoyu Ski Resort Thank you
A bit more info on Kumanoyu – More early snow near Nozawa
It is only a small resort with a vertical of 260m compared to 1085m at Nozawa but has great elevation. The bottom of the resort is actually as high as the top of Mt Kenashi in Nozawa Onsen.
It was one of the resorts that stuck it out on their no boarders policy only opening it up to snowboarders 2 seasons ago!
Statistics on Kumanoyo Ski Resort
5 Lifts with 1 Quad and 4 Pair Lifts
Longest Run 1300m
9 Ski Courses
Steepest being 32 degrees
30% Advanced, 40% Internmediate and 30% beginner
Top Elevation 1950m, Bottom 1690m, Vert 260m
They have night skiing everyday
Lift Pass Adults 5000 a day Kids 2,500 a day
Can get a Super Pass for 17,500 Yen for 4 days which is valid at all Shiga Kogen Resorts
Nearest Train Station is Yudanaka then a 30 minute bus ride to Shiga Kogen. From there, there is a free shuttle around the resorts if have a lift pass
In summary it is a scenic little resort but pretty small and not a lot going on there but from all reports the lifts lines are non existent on week days and they have Onsens nearby! Maybe a good day trip to check out from Nozawa Onsen.