Early Snow Nozawa Japan
Christmas may come early for Nozawa 
Check out the forecast for the top of Nozawa over the next few days!  Winds swinging to that favourable Northern West bringing on a little Siberian snow storm. Temps are dropping down to as low as -5 degrees and over 30cm of beautiful fresh snow expected! 
Early Snow Nozawa Japan
The "Magic Foot" in early November! The resort may need to reconsider the December 12th opening. If in Japan and keen to get up for what is shaping up as an epic season jump on the site to make a booking. If can't make it this season it is a good time to book for next season as things will fill fast and great to have something to look forward to.  Book to Ski Japan
Won't be long until we can enjoy scenes like this in Nozawa. Bring on the snow…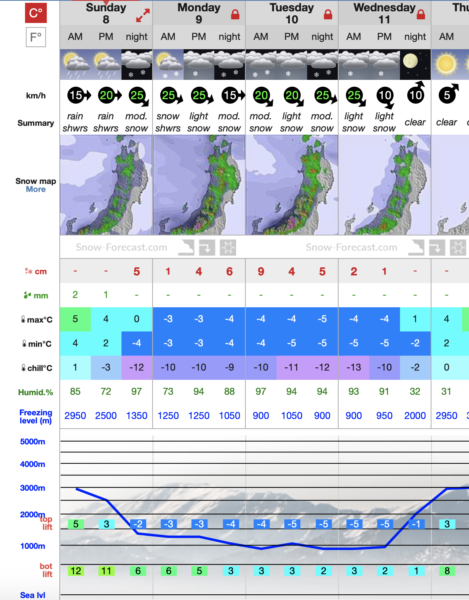 These kind of weather patterns aren't unusual for mid Winter but a bit rare to get in early November. The new Nagasaka Gondola is near completion but doubt it will be enough to open the lifts. However if you are after an early ski nearby Karuizawa Ski Resort has opened on mainly man made snow but they should also get this snow storm.