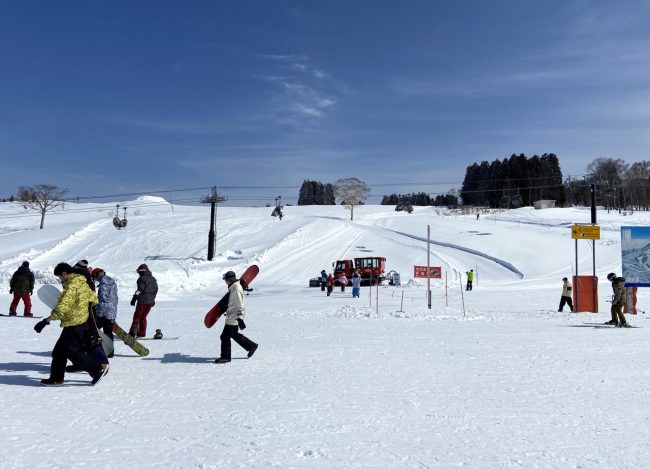 Eco Lodge Nozawa Onsen Japan
Monday Blues in Nozawa 
Sitting under a sea of fog in the village at the moment but a quick check of the cams and it is beautiful blue skies up top. As forecast looking like a sunny spring day ahead for Nozawa. The runs are groomed and ready and the views look spectacular. It is already 2 degrees up top and imagine will warm up quickly so should soften up for a day of fun Spring Slush otherwise known as " Poor Mans Powder". Check out the web cams here https://nozawa-onsen.com/nozawa-webcams/
The stats for the slopes today in Nozawa
Temperature up top: 2 degrees
New snow since close: 0 cm
Base at top: 205 cm
Snow conditions: Spring skiing in the sun.  
Weather: Sunny day up top with blue skies and light winds 
Yesterday turned out to be a good day on the hill with cloud cover all day the piste stayed in good condition and the crowds disappeared just after lunch. Should be pretty much empty up there today and the rest of the week. Tomorrow  still not looking like a great day but fortunes and temps turning from tomorrow night and good amounts of snow forecast for the week ahead. Check out the forecast attached.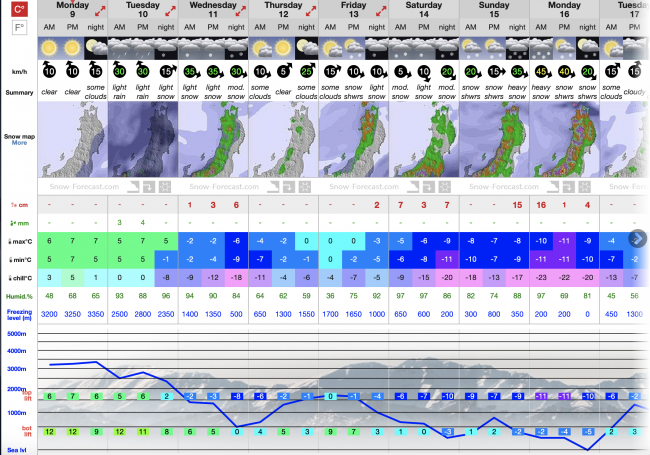 Eco Lodge Nozawa Onsen Japan
Will be a great day today for making some green energy too and the Solar Panels on some of the lodges around Nozawa will be loving the  sunshine. We first put solar panels on the roofs here in 2011 and people thought we were crazy because of all the snow we get here. It can sometimes be tricky keeping the snow off them but it has been a great decision and we now produce more energy over the year than we use so has been a great environmental initiative. The following lodges in Nozawa have Solar Energy so consider them if want to be more eco friendly when making your next booking. Also great places to stay check them out here https://www.nozawaholidays.com/properties/
Villa Nozawa

 

Lodge Nagano

 

Kamoshika

 

Kaiya Nozawa

 

Nozawa Central Rentals Ski Locker.