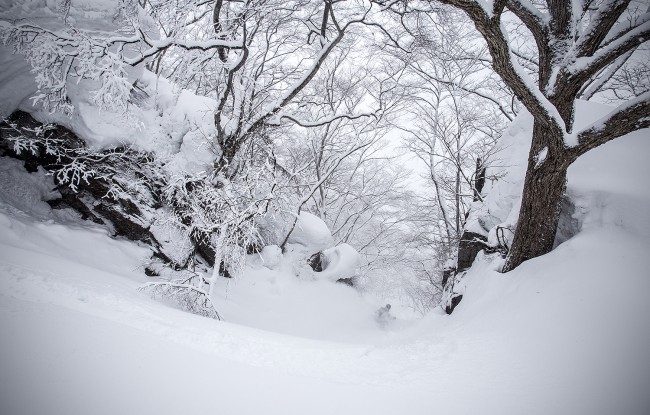 Base up top: 445 cm    Temp Top; -7 Degrees
Base at bottom; 230 cm
New Snow since close: 40 cm
Weather; Snow
Over the last few weeks in Nozawa Onsen we have been through several storm cycles that had shown much promise, according to forecasts, but failed to deliver snowfalls of any significance. Im pleased to say that this run of over expectations has well and truly finished. Since late yesterday afternoon the snow has fallen thick and fast with overnight accumulations pushing up towards the 40cm mark on the upper reaches of the mountain. Snow to village level has also been significant with 20cm of collection at 600m above sea level. Safe to say the riding will be excellent today.
Not to dismiss what was on offer yesterday. We saw some very uncrowded slopes in combination with fresh snow making for many happy faces defending the hill during the day. Temperatures became extremely cold during the afternoon providing some of that cold siberian smoke that was missing in action for the past two weeks.
The run of excellent skiing and boarding is set to last for the rest of the week with cold temperatures and continuing light to moderate snowfalls until late Saturday. So if you are not here skiing or boarding in Nozawa Onsen you should wish you were.