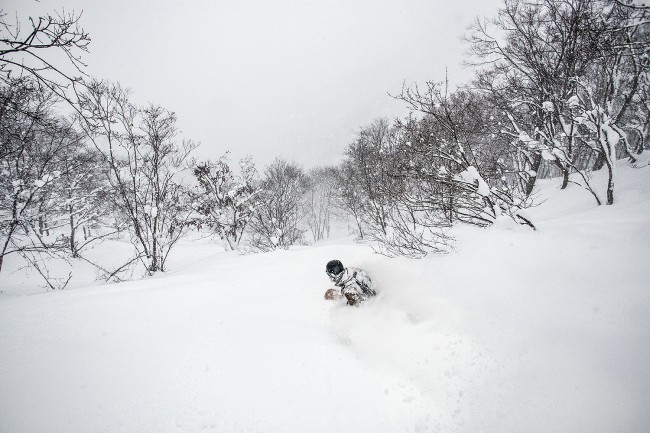 Base up top: 440 cm    Temp Top; -10 Degrees
Base at bottom; 265 cm
New Snow since close: 20 cm
Weather; Windy
Its blowing a gale in Nozawa Onsen this morning. We just had a patch patch of blue sky pass over about thirty minutes ago however snow has started to fall again. Its a proper blizzard out there, especially on the top half of the mountain. Here the temperature is -10C, or around -25C with windchill. Yeah, don't forget the extra layer, or six… Its possible that the Nagasaka gondola will not be running, but hopefully the Hikage gondola will be spinning to get people to the top. Those who venture out will be rewarded with deep wind drifts of fresh pow in bounds. Avalanche conditions will be extreme today with rapid accumulation of thick wind slab on melt freeze crust on all aspects and elevations. Think twice.
Yesterday we also had some pretty gnarly riding weather. As heavy snow fell for most of the day conditions improved from a dust on crust situation to deep powder with only some penetration to the crust layer. Visibility was minimal and the temperatures very cold.
We should see strong winds and snowfalls continue today and tomorrow. Wind and snow will strengthen tonight pushing towards the extreme levels but by tomorrow afternoon the weather will ease. Monday looks to be the pick this week with a partly cloudy slash bluebird day expected. Following this more snow, but a higher freezing level will persist most of the week.