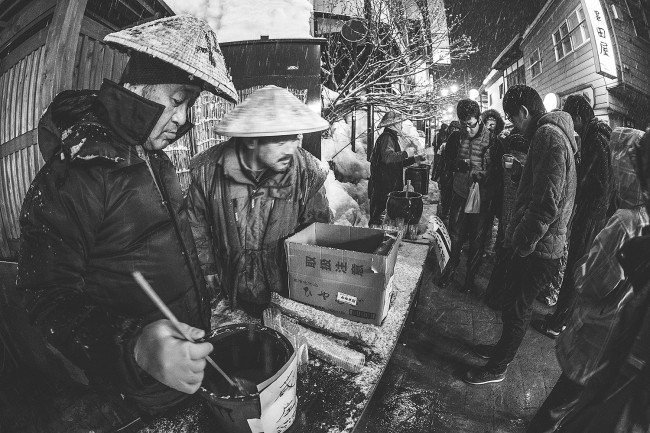 Base up top: 325 cm    Temp Top; -8 Degrees
Base at bottom; 190 cm
New Snow since close: 5 cm
Weather; Overcast
More of the same in Nozawa Onsen as conditions are really similar to yesterday. Its a mostly overcast sky with clearer visibility at the bottom than the top. We have had some snow fall overnight with 5cm recorded at the top and 1-2cm at village level. With a Japanese long weekend it will be markedly busier on the hill, something which took us all by surprise yesterday.
A festive air was experienced in the village last night with traffic control shutting off the main street to cars for everyone to take part in a giant game of paper, scissors, rock. Good entertainment for all involved! Of course there was free food and sake tasting as well as a display of the history of skiing in Nozawa Onsen.
As usual, the forecast is solid. A big dump of fresh powder is expected tonight, with around 50cm expected. The snow will probably start to fall at some point late this afternoon with snow showers continuing into tomorrow. Beautiful clear conditions are predicted for most of the second half of this week to combine with the fresh japow.