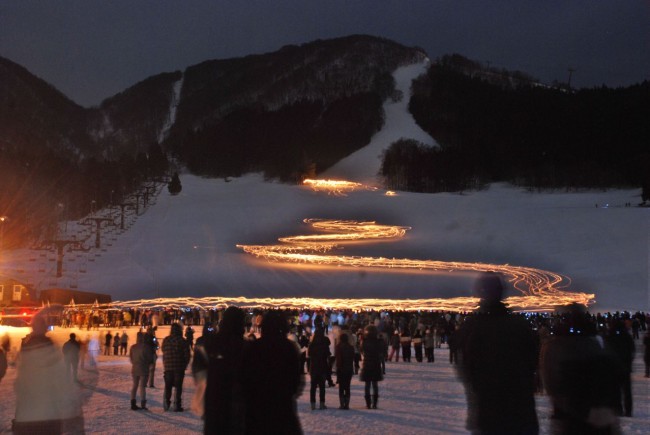 Base up top: 380 cm           Temperature; -7 Degrees
Base at bottom; 240 cm
New Snow: 0 cm                           Weather; Sunny
Great night in Town last night, with a good vibe all around the Village. Up on the Hikage slopes the fire works and torch run were spectacular and could be seen from all over the resort.
Beautiful clear skies again today and pretty cold up top at -7 degrees. Should make the groomers pretty fast, which will be perfect for the racing getting underway today. It is going to be another nice day. Bound to warm up soften as the day gets on.
Yesterday was lots of fun on the slopes and conditions were not bad at all. The base up top so far has not dropped much with this warmer weather still just under the 4-meter mark at 380cm.
The forecast for the next few days is not so encouraging with freezing levels getting almost as high as Mt Fuji it looks as though we may be in for some rain. Should hopefully squeeze in a bit of snow first tonight though before the temps climb. Looks like just a one-day peak then will cool down again.
The spring season pass is also underway now and at just 30,000 Yen with over 2 months in the season to go is a great investment.