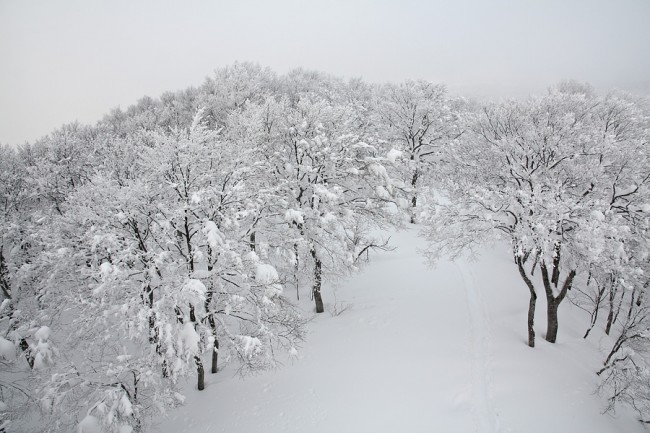 Base up top: 240cm        Temp Top; -9 Degrees
Base at bottom: 130cm
New Snow since close: 0cm
Weather; Clear
After a couple of days of snowfalls, the weather has returned to intense sunshine here in Nozawa Onsen. Looks like a great day for skiing with the perfect visibility.
Many of the well known areas became tracked out when the snowfalls stopped around lunchtime yesterday, however with a bit of exploration you would be sure to still find some untracked Japan powder. Conditions on the groomers will be fast early, but will soften in the afternoon with the warm temperatures forecast.
The weekend crowds began to roll into the resort early this morning. It will be significantly busier than the past week up on the mountain but Nozawa has an efficient lifting system so lines shouldn't be too bad.
Yesterday was an awesome day on the mountain. Snowfalls persisted for most of the morning before the overcast conditions parted and gave way to some sun, although clouds lingered around the peak for most of the day. South facing slopes in the lower quarter of the resort developed a light crust during the afternoon however areas up high were fine.
We are approaching one of the busier weeks of the season in Nozawa. The world renowned fire festival will occur on the 15th and many people make the trip each year to witness the spectacle. Preparations are already underway with the villagers carrying logs down the mountain to construct the centerpiece tower, which will be attacked with fire on the night of the 15th.
The forecast has improved with the latest updates. We are now expecting a two day bout of warm weather before snowfalls and the cold returns the following days. Significant, quality falls are still looking possible of the 17th.