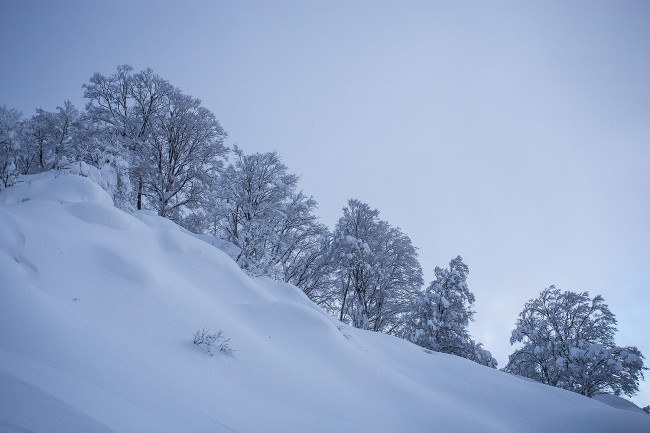 Base up top: 290 cm    Temp Top;  -4 Degrees
Base at bottom; 180 cm
New Snow since close: 10 cm
Weather; Fog
Heavy fog has enveloped the village of Nozawa Onsen this morning inducing a definitive maritime atmosphere about the mountain. Squashed between an inversion layer, it should hopefully clear with an increased wind speed later in the day. Best skiing will be had on tree lined groomed runs where points of focus will improve depth perception. At the moment elevations between 1000-1400m are sandwiched in a clear layer so these altitudes offer the best visibility at this time.
Yesterday was a similar story with low fog limiting visibility and light snow showers in upper areas. Again, the skiing was best on the groomed runs with off piste snow somewhat variable in quality.
The build up to the much anticipated new years dump is upon us. Tomorrow night is the starting point where by heavy snow is expected, continuing until Friday before clearing at the weekend. A good few days will be had for all in Nozawa Onsen.