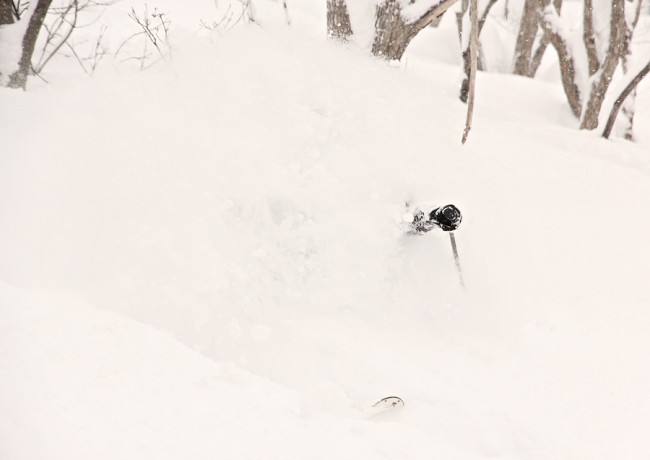 Base up top: 400cm Temp Top; -14 Degrees
Base at bottom: 225cm
New Snow since close: 30cm
The base has cracked the four meter mark in style overnight here in Nozawa Onsen with 30cm of fresh pow falling since last lifts yesterday.
Early birds and weekend warriors were out in force this morning lapping the trees and ungroomed pistes with gigantic smiles on their faces; conditions are obviously very good. We even have sun breaking through the clouds with excellent visibility and light winds. Do yourself a favor and get up there if you can!
Yesterday was yet another perfect day. We saw sun and very light crowds persist all day long. It was a great day for exploring the shaded gullies with very inviting visibility and a relatively stable snowpack. The best places for skiing in the afternoon were the north facing slopes as the southern faces were exposed to the strong late winter sun, dramatically altering the snowpack.
It looks like we should expect further snow showers to pass across the region later today and tonight, probably produce more fresh tracks tomorrow morning. We should see some strong winds and moderate snows last the day on Sunday. Hopefully the winds will not be too strong to shut lifts because if not the riding will be excellent.
On Monday light snow showers should continue till around the afternoon before a clearing trend commences. Tuesday should be a beautiful clear picture perfect day.